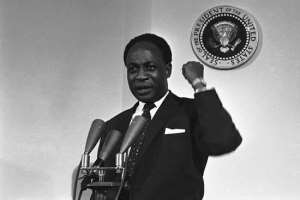 Kwame Nkrumah did not fail, yet he has not succeeded.
Political Independence without economic independence is still not freedom. When Kwame Nkrumah and our forefathers were fighting to liberate a continent under the shackles of colonial rule, they envisaged that political freedom will enable and empower us to pursue economic opportunities that will offer all the citizens of the new Africa a better life. It was with this belief that many laid down their lives in that struggle- many decades after that sacrifice, their expectations have been sorely disappointed.
A diagnosis of why the new Africa is riddled with old problems like inequalities and poverty will reveal a main causality. A prognosis of our current morbid conditions will also not produce any hope for a better future. But any discourse that focuses on already known causes and its known consequences would be an impotent attempt at birthing new solutions, and therefore I will proceed pragmatically at what new Africa needs to do to truly achieve new results for a citizenry that badly needs them.
There is no better period to be born as an African, paradoxically, there is also no difficult time to be born as an African than in this time of globalised village, this dichotomy represents the height of the frustrations of the most populated youth in the world, the African youth.
We live at a technological age where any young African can practically dream about achieving anything, have global goals as their personal pursuits, and rise to the echelons of society despite the very fact that our grandfathers lived in a different reality just two generations ago, and were literally inhibited by the colour of their skin, or their black heritage. Our world has changed, young black Africans now have access to an avalanche of information, emerging technologies and a conscious self-awareness of their inherent capacities to blaze new trails and solve communal and continental problems with their innovative ideas.
But these young brilliant and educated black youth have also seen the limitations of pursuing their global goals and lived the frustrations and the constraint in the details of execution. A world that promises everything and an African continent that gives nothing in capital, infrastructure or practical opportunities to develop ideas from the classroom to the boardroom, from a place of theory to a place of applied.
We have learnt soberly, sadly but slowly, that to be African; it takes twice as hard to get only half of what already exist in the developed economies. "Hyperopia" maybe, we had to squint hard through the rhetoric to see all the road diversion signs near our dreams. And as the leadership expert Miles Munroe once said "there is nothing more saddening like a people with potentials (dreams) without the platform to develop and achieve them."
But the African youth underachievement lies with leadership. Because, leadership is everything! Wherever Africa is now, African leaders and their leadership led us here. New political, organizational, economic, religious and personal leadership is the Only answer to the helpless questions to when our continental plight, pain and shame would end.
Leadership is the only fulcrum around which sustained development revolves. A case study of Africa will reveal a lot of leaders but few leaderships! We have many politicians, institutional and organizational heads but little to no leadership, we have businesses and their leaders without economic leadership. We even have at our disposal, a lot of highly educated people without responsibility to personal leadership.
True leadership does not focus on votes, profits, position or power at the expense of the welfare of the citizenry, consumer satisfaction, performance or service. It is leadership that leads to somewhere, somewhere better for the people even at the expense of the leader and its leadership position. Leadership without sacrifice is self-promotion at best, and a leader that is not blind to self cannot have foresight, such a leader is only leading its self.
The purpose, passion and pursuit of a new African leadership should be about the people and for the people. It should above all prioritize the development of the people. A developed people are leaders, and a people are undeveloped leaders. Our only chance of becoming anything significant in a world that is miles ahead of us is when we become a continent of leaders. Every African must become a leader; an economic leader!
A Continent of Economic Leaders
The first monumental misstep by the freedom fighters and the post-colonial leaders was to prioritise natural resource rather than human resource as the primary catalyst for the development of the new Africa.
Economists agree in principle that physical (land), human (labour), and financial (capital) resources are needed to undertake any economic activity. These 3 resources are fundamental to the development of any people, however recent research and study have shown that skilled labour, or developed human resource is the most productive of all the resources.
Malaysia, Singapore, South Korea and a host of other countries have shown that the real gold of a country are the gold in the people. "Within twenty years—from the 1950s, when the American occupation of Japan ended, to the 1970s—Japan became the world's second economic power, and a leader in technology. When the Korean War ended in the early 1950s, South Korea was left more devastated than Japan had been seven years earlier. And it had never been anything but a backward country, especially as the Japanese systematically suppressed Korean enterprise and higher education during the thirty-five years of occupation. But, by using the colleges and universities of the United States to educate their able young people, and by importing and applying the concepts of management, Korea became a highly developed country within twenty-five years."
(Excerpt From: Joseph A. Maciariello. "A Year with Peter Drucker: 52 Weeks of Coaching for Leadership Effectiveness". Apple Books.
Singapore, a country which became independent as a republic on 9 August 1965, has few natural resources, with agriculture relatively scarce, and therefore most of its food must be imported in order to feed the people. What it lacked in natural resource, it supplied in its human resource. Singapore's Human Development Index (HDI) value for 2018 was 0.935 which put the country in the Very High Human Development category positioning it at 9 out of 189 countries and territories. Between 1990 and 2018, Singapore's HDI value increased from 0.718 to 0.935, an increase of 30.2 percent.
Compare that to the resource rich sub-Saharan Africa which has 61.1 percent of its people at Low Human Development category as at 2018. Most of these nations gained independence before Singapore, and had more financial, human and physical resources than Singapore could ever wish for at the time of their republic.
Many decades after, and with different focus and emphasis, the economy of Singapore has become a highly developed free-market economy, ranked as the most open in the world, 3rd least corrupt, most pro-business, with low tax rates and has the third highest per-capita GDP in the world in terms of purchasing power parity. In 2018, the Sub-Saharan Africa GDP per-capita was $1,585, and the GDP per-capita of Nigeria, the biggest economy in Africa was $2,028 whiles Singapore had a per-capita GDP of $64,581. The sheer gap is almost pathetic!
What about Switzerland? Switzerland has one of the most competitive economies in the world thanks above all to its highly developed service sector, and has the second highest gross domestic product (GDP) per capita of $82, 796, in the world. Dubbed as the richest country in the world, Switzerland heads the global ranking in terms of wealth with an average of US$564,650 per adult, a 144% increase since 2000. But it will interest and possibly shock young Africans that granite, limestone, other building stones, and salt are the only abundant mineral resources with commercial value in Switzerland.
Maybe, you are wondering their secret to economic development? Switzerland's HDI value for 2018 is 0.946— which put the country in the very high human development category—positioning it at 2 out of 189 countries and territories.
It is that minds of our people that possesses the real growth value, far more than the mines of our land. We must not see our people as just population, they must be treated as our economic growth potential. They are not numbers to be counted but leaders to be valued. They are not cost but assets. Neither are they political calves waiting to be milked every electoral season, but they are unique economic leaders needed to be developed for economic performance and results.
A country that commits itself and its nation to developing its human resource will foster a growing and prosperous economy because as its people grow to become economic leaders, they will increase their managerial and entrepreneurial capacity, yielding higher levels of productivity and innovation to the nation, both directly through their work and indirectly through their civic contributions and personal leadership.
Dr, Kwame Nkrumah was voted as the best African in the last century, he is a far better leader than we could have ever wished for as a people. Leaders are borne out of crisis, and the circumstances of that crisis often forms a critical mass of that leader and their leadership exploits. Post-colonial leaders cannot be measured by the standards of values of the new world, but they must be measured by the substance of their vision for a better world. For his foresight and the fierceness of his vision, it is very sad that Nkrumah has still achieved his continental pursuits.
Success without successors is postponed failure. Nkrumah and his African vision must not die!
Yet we need a new type of Nkrumah, not the political freedom fighter but an economic freedom warrior, economic leaders in every sphere and sector of our continent who fully grasp the true essence and effects of human capital development. Remember, Africa needs a high human development index in order to have a Trained (knowledge) Economy, a Trust Economy, a "Tertiarized" Economy, a Technology-driven Economy, and a Transparent Economy; economic pillars almost indispensable for visible progress in a continent that is now on life support.
Without a developed people, we remain a dying dark continent. But with a developed people, we become a growing and a daring continent. Until there is a change in how we perceive citizenry in our continent, or the population of our people as a resource with the highest transformative ability, sub-Saharan Africa will continue to remain as the poor black hut in a globalised village.
La viva Nkrumah! Long live His African Vision! Long Live to the new economic leaders!
I am Richmond Perkins Asante- and I am an economic leader!
Thank you & Happy Nkrumah Memorial Day!