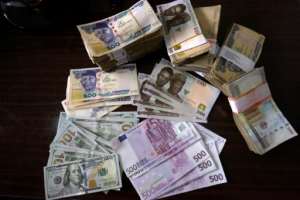 The communique from the meeting of Heads of States of the sub- regional body ECOWAS, reveals the need for proactive measures to be put in place to address future challenges such as the military take overs that is roaring it's head across the sub-region. This will mitigate future emergency summits of this kind if truly we want to champion the unionized role of ECOWAS.
One of these proactive measures is the common currency regime that have been toyed with over a decade. This regime would have proven to be an effective tool in situations like that of Guinea and Mali.
If the currency was in place, far reaching economic sanctions could have been imposed on the military junta to force them to comply and return the country back to democratic governance immediately. With a common central bank managing the currency, it will have had the responsibility of recognizing democratically elected leaders and governments. And refuse to recognize or deal with any undemocratic government with the backing of the bigger body.
Sadly, this has been toyed with to an extent that there seem to be no future for that all important policy of the regional sub-group.
One wonders how the sanction to freeze the accounts of the leadership of the coup leaders can be effective when they have the keys to the Central Bank of the Republic of Guinea. How the sanction to impose a travel ban on them can be effective when they are already friends with a superpower like Russia who is in to lure them with booties for the mineral deposits the country is blessed with.
Some may propose the use of military force to counter the Coup makers which on its own cannot be helpful because the fundamental objective is to protect live and livelihoods of the people of the Republic of Guinea. And a counter military attack would be unproductive and at worst lead to loss of lives. The use of military has proven to be ineffective in the face of the withdrawal of United States of America from Afghanistan.
Dialogue remains the only and everlasting option in times like this.
It is refreshing to note that the Community of Nations itself feel the protocols that have lasted over a decade from 2001 have outlived its usefulness hence a call to amend portions of the protocols.
It's therefore hoped that the body will find the need to establish institutions that seek to harmonize the region, such a common Central Bank to manage the Eco currency, African Continental Free Trade Area AfCFTA among others so as to bite well when the need arises for effective resolution of crisis of the kinds of Guinea, Mali the regional body is struggling to deal with at the just ended emergency summit.