Bagbin pledges to build on feats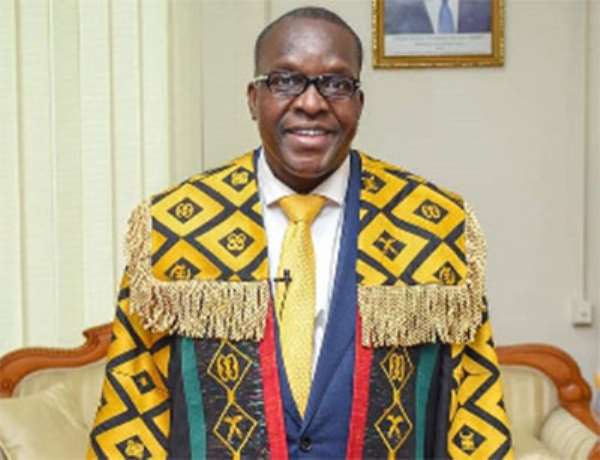 Alban Sumana Kingsford Bagbin
Speaker of Parliament, Alban Sumana Kingsford Bagbin, has pledged to build on the achievements of his predecessors, and to strengthen the frontiers of parliamentary governance.
He told Members of Parliament (MPs) at the Second Sitting of the First Meeting of the Eighth Parliament of the Fourth Republic last Friday that Justice Daniel Francis Annan laid a solid foundation to anchor the growth and development of parliamentary law, practice and procedure in the Fourth Republican Parliament.
He added, "I acknowledge with great appreciation and respect the contributions of Peter Ala Adjetey, Ebenezer Sekyi-Hughes, Justice Joyce Adeline Bamford-Addo, Edward Kobla Doe Adjaho and Aaron Mike Oquaye."
"I have worked with all these Speakers as a leader and a member of the Parliamentary Service Board, and I can attest to the tireless efforts each and every one of them made to consolidate, strengthen the Institution of Parliament and to build the capacity of members and staff of Parliament," Mr. Bagbin intimated.
"I pledge to build on these achievements and to widen and deepen the frontiers of parliamentary governance even further," he stressed.
According to him, some critical laws could not be passed by the previous Parliaments and these have gone into abeyance with the dissolution of the Seventh Parliament.
"Draft legislations such as the Affirmative Action Bill, Spousal Rights Bill, Standing Orders of the House which has been pending before the House since 2002, the Budget Bill, International Business and Agreements Bill, etc. call for urgent action," he stated.
He called on the responsible sponsoring government agencies or institutions to resubmit these Bills to the House early for consideration, and noted in particular, the review of the Standing Orders of the House.
"I vision a bipartisan, inclusive, participatory, responsive, efficient and effective Parliament. The Eighth Parliament will have to work to earn the respect of the people of Ghana and to restore the image and dignity of the institution. There is nothing more noble and satisfying than to render service to the people," he said.
He echoed the words of President Akufo-Addo, when he delivered his message on the State of the Nation on the dissolution of the Seventh Parliament which he said, "The good people of Ghana have spoken and given Parliament almost equal strength on both sides of the House; we have no choice but to work with the consequences of the desires of the people. The House will have to be more accommodating of each other's views and, probably, devise new ways of conducting its affairs."
Speaker Bagbin indicated that he fully subscribed to the view expressed by President Akufo-Addo and added, "No more, no less. Cooperation, dialogue, accommodation and consensus building must guide this Parliament in the conduct of its business."
"We must work together for the betterment of Ghana and Ghanaians. That, I believe, is the demand of Ghanaians, and the loud and clear message of the 2020 general election."
---Daily Guide