Nothing Wrong with Supreme Court Judge Lobbying for Speaker Oquaye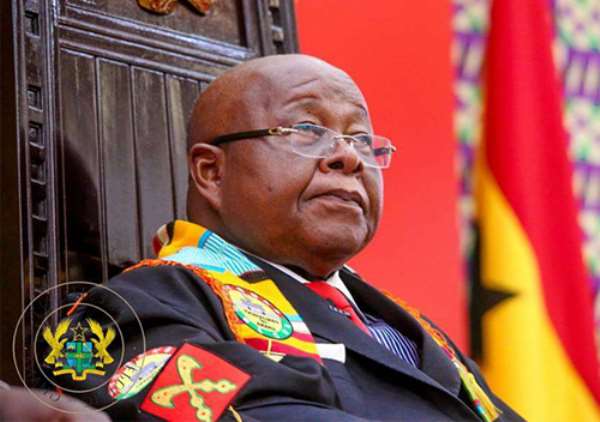 It is intolerably hypocritical on the part of National Democratic Congress' politicians like Messrs. Edward Abambire Bawa and Mohammed Mubarak Muntaka, the latter of who has publicly stated on a television interview, with Emefa Apawu on the Joy News-carried "The Probe" talking-heads current affairs program, that he personally crossed aisles to lobby some New Patriotic Party Parliamentarians to vote for Speaker Alban SK Bagbin, to be accusing a female Supreme Court Justice of doing the exact same thing (See "Supreme Court Justice Who Tried to Bribe NDC MP Is a 'Very Top' Judge – Edward Bawa" Ghanaweb.com 1/11/21).
In 2013, we had the recently retired Associate Justice of the Supreme Court of Ghana (SCOG), Mr. William Atuguba, flagrantly lobby other colleagues on the judicial panel over which Justice Atuguba presided to hand down a decision in favor of the then-Interim President John Dramani Mahama. So, just don't let us "naively" pretend that, somehow, our Supreme Court Judges lived somewhere in outer space and were governed by a totally different set of rules and standards from those of us domiciled right here on Planet Earth. You see, it is only in Ghana that we pretend to expect ideological neutrality from the members of our judicial benches, especially from members of the Apex Bench, as it were.
Here, in the United States of America, for example, each and every one of the nine (9) members of the SCOTUS, that is, the Supreme Court of the United States, is clearly ideologically identifiable. To be certain, it is on the basis of their ideological suasions that Supreme Court Candidates are nominated by the extant President to serve on this highest court of the land. This is done in order to ensure certain sociopolitical, economic and moral outcomes whenever disputes and controversies arise at the individual, institutional and political party or establishment levels that have to be judicially resolved and may have long-term and/or far-reaching consequences. The courts are absolutely in no way established to render verdicts or decisions on the bizarre and vapid basis of "neutrality." That is simply not a normal practice in the realm of humanity.
But what is even more significant to note and a matter of course, to be certain, is the undeniable fact that statutorily or constitutionally speaking, judges, irrespective of their status and/or stature on the bench, are bona fide Ghanaian citizens, which means that judges are inviolably endowed with an inalienable right of access to the franchise. Unless, of course, they happen to be sitting on a case or cases at any relevant material moment, our judges are, on any ordinary day, as human and prone to political partisanship as the next or average Ghanaian citizen. Where I come in regards the imperative necessity to underscore the fact that like most of our legally trained parliamentarians, the anonymous Supreme Court Justice who is the subject of this column may very well have been taught at some point in time by the very distinguished and erudite Prof. Aaron Michael Oquaye, and promptly saw a prime opportunity to return a favor that might have been done for her by the old, venerable and distinguished scholar, lawyer, political scientist and ordained Baptist clergyman.
This is something that is done all across Ghanaian society without any notable or remarkable exceptions. In the case of the globally scandalous parceling out of a clearly undeserved verdict to the then-Interim President John Dramani Mahama, the direct and openly shameless recompense or reward, was the almost immediate appointment of a close relative of Justice William Atuguba by the name of Dr. Raymond Atuguba to the cushy and handsomely salaried post of Executive-Secretary to the President of the Sovereign Democratic Republic of Ghana. Messrs. Bawa and Muntaka cannot pretend not to have been studiously aware of this fact. Indeed, at the very beginning of the official sitting of the William Atuguba-presided panel of the Supreme Court in 2013, the late Vice-President Kwesi Bekoe Amissah-Arthur – it turns out the Mahama kickaround family poodle was good for something, after all – was widely reported by the media to have spent an entire weekend in the residence of Associate Justice Vida Akoto-Bamfo, then widowed, who had also been widely rumored to have been involved in a torrid romantic liaison with the recently deceased President John Evans Atta-Mills. Could we talk about Karma now?
Then again, who also said that Karma was not a bitch?! Now that the metaphorical shoe is on another's foot, somehow, the ground is too much briar-covered for comfort. Why don't you simply man up and stoically take it on the chin, big boys?
*Visit my blog at: KwameOkoampaAhoofeJr
By Kwame Okoampa-Ahoofe, Jr., PhD
English Department, SUNY-Nassau
Garden City, New York
January 13, 2021
E-mail: [email protected]