Liberia's Deputy Minister for Gender Minister Receives Most Accessible Minister Award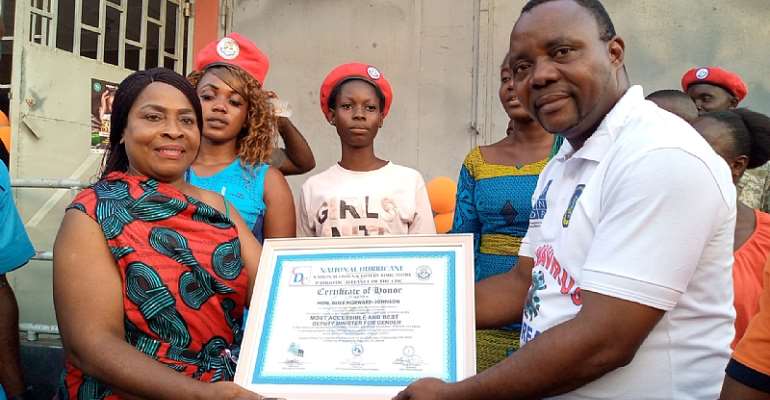 Liberia's Deputy Minister for Gender Madam Alice Johnson Howard has been honoured by three Accredited Auxiliaries of the ruling Coalition for Democratic Change (CDC).
The Auxiliaries constitute the CDC's National Hurricane headed by Anthony J.Towah, CDC's National Civics & Voter's Education headed by Savior B. Kai and the Patriotic Alliance headed by Patrick W. Guah ll.
According to the Organizers, the honoree has demonstrated high level of professionalism, dedication to service, championing and protecting the rights of women and girls and has exhibited unmatched accessibility to all regardless of one's social stratum.
Presenting the certificate of honour, Mr Anthony J. Towah - Chairman of the CDC's National Hurricane emphasized that the honoree crosses across every spectrum of society irrespective of party's afflictions.
"She's a mother that one can call on anytime, a mother that does her job assiduously, a mother that calls, answers and returns calls and messages in time, and a mother that has refused to desert her fellow partisans.
Mr Towah used the occasion to encourage other CDC's Ministers and Heads of Agencies to emulate the positive footprint of Minister Howard as doing so would fittingly enhance the rapid growth of the Coalition for Democratic Change.
Chairman Towah and his team gowned and presented a certificate of honour to Madam Howard captioned: Most Accessible Deputy Minister of the Year 2020.
In acceptance remarks, the honoree Deputy Gender Minister Alice Johnson Howard lauded the organizers for such unsolicited recognition of bestowing honour on her. Minister Howard said, though she had declined the said honour twice over the last two years but she was thrilled by the persistency exhibited by the Organizers.
"I am thankful and humble for the honour as I am also cognizant of the reality that there are people who merit similar honour are either ignored or forgotten by society.
It's a rare privilege that I will cherish for the rest of my life - surely God locates and man recognizes", Minister Howard expressed.
The Deputy Gender Minister extended her appreciation to the Political Leader of the Mighty Coalition for Democratic Change, the Feminist-In-Chief His Excellency Dr George Manneh Weah, President of the Republic of Liberia for affording her the stage to serve her Country.
"To my Gender Ministry family and in particular the erudite Minister of Gender, Children and Social Protection Mrs Williametta E. Saydee-Tarr, I'm thankful for creating an enabling working environment that has resulted to this honour of mine. I share it with you all", Madam Howard stated.
The honouring program was held at the residence of Minister Howard located Churgbor, Oldroad -Monrovia on Saturday, December 26, 2020.