Give NDC, NPP The "Electric Shock"---CPP to voters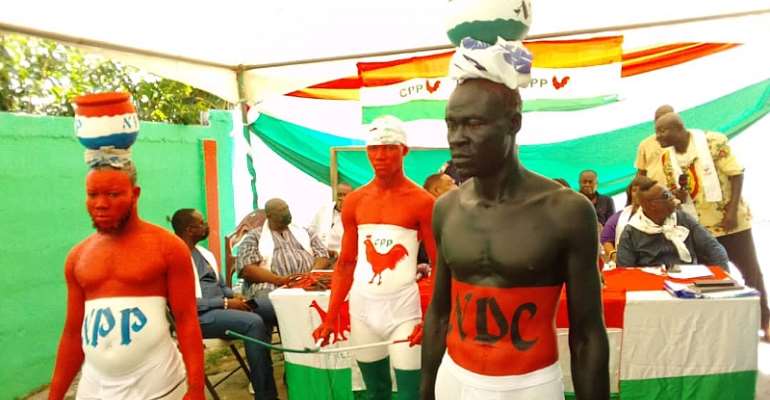 The Convention People's Party (CPP) has urge Ghanaians to strongly give the NDC and NPP an "Electric shock" in the December 7 general polls.
Ghanaians will exercise their franchise on December 7 to elect their new president and parliamentarians.
Speaking at a short press conference on Monday, 30th November 2020 at the party office in Accra, the presidential candidate, Ivor Greenstreet, reiterated the need for Ghanaians to vote out the NDC and NPP come December 7.
"The depth of the national crisis into which the (P)NDC/NPP has plunged us demands that the good people of Ghana muster the courage to give them each and "Electric Shock" on the 7th of December. Some people say that trying the same thing over and over again without success and expecting a different result, is the definition of insanity," he said.
"We have tried the NDC and NPP on seven occasions since 1992, neither party has lived up even to our most modest reasonable expectations, let alone to their grand promises.
"It would be irrational for us to try either the NPP or the NDC again and hope for any other result than more of the same disappointment and disillusionment," the presidential candidate, Ivor Greenstreet stressed.
He also lamented on the results of Neo-Liberalism under the (P)NDC /NPP policy.
"Socio-Economic Instability, 85 percent of Ghanaians do not have a regular fixed income. Empty slogans, false claims and jargon "Ghana beyond Aid", "A better Ghana", "macro-economic stability", "enabling environment", "The private sector is the engine of growth" instead of an integrated long term National Development plan," he said.
"Social Dislocation, sluggish, jobless economic growth, market failure, Cedi Depreciation, Unsustainable National Debt from HIPC debt relief in 2005 to HIMIC and begging for debt relief in 2020 among others," he stated.
He, however, disclosed that the CPP when voted for would implement its key 10 point program of Nkrumaist policies, modernised to reflect the 21st-century world of global inter-dependence and rapidly advancing technology with focus on the "Rebuilding Ghana by Restoring trust in Government" agenda.
"The CPP will introduce a new model of development, in which the state will no longer limit its role to merely enabling a development process led by the private sector and financed with foreign aid. Under the Developmental State Paradigm, the CPP government will positively embrace its unique responsibility for engineering all aspects of the balanced Socio-Economic development of Ghana and will take the lead in designing and implementing an accelerated program of transformational Socio-Economic development, in accordance with a long term integrated National Development Plan that will finalize our first year in office. Wherever it is appropriate to do so, the CPP will emphasize the strategic role of State-owned enterprise," he disclosed.
"Socio-Economic inclusion - One country, One system, Full employment - Jobs for All, Governance - Competent, Honest, Accountable Leadership, Corruption - War on corruption and Waste, Public Sector Reorganisation and The Economy," Ivor Greenstreet added.
The presidential candidate, Ivor Greenstreet, disclosed that the CPP government will ensure stability among Ghanaians by providing life changing opportunities.
"The CPP government will take another look at the constitutional review process, freeze all article 71 Ex-gratia payment pending review. Immediately implement at Right to Information Bill, freeze all sale of government property to civil / public servants and political appointees and review such past sales and reclaim such state properties especially land.
"Under infrastructure, we shall complete all proper infrastructure projects begun by previous governments. Directly offer state support for strategy, planning, protection and the creation of factories in strategic areas to create productive and permanent jobs," he said.
He stated that the Agricultural sector will be the major field to be improved and developed.
"The CPP government will offer our farmers the Green Miracle, A guaranteed market and a fair price for a wide range of food and cash crops, as was done to produce Ghana's cocoa miracle. Place a moratorium on the importation of chicken and rice imports within one year," he said.
He hinted that the CPP government will improve the economy with tax exemptions.
"We will review and/or remove all tax exemptions to foreign-owned rebates. Review not reduce corporate tax from 25 percent to 20 percent for Ghanaian owned business and VAT to 10 percent or progressively to a single digit.
"Consider the increase in tax on foreign exchange remittances sent out by foreign businesses. Consider rice to 25 percent of retention of foreign exchange proceeds by foreign companies. Introduce a special tax on telecommunication infrastructure," he said.
"Remove the communication talk tax and replace with vat on sets and no further debt for paying old loans and or pay for recurrent expenditure," he added.
The presidential candidate added that the CPP government will improve the fishing sector by banning on all foreign fishing trawlers from Ghana's economic fishing zone, extend health insurance to all Ghanaians and introduce enhanced free education from pre-school to tertiary level including adult education and a mass literacy program.