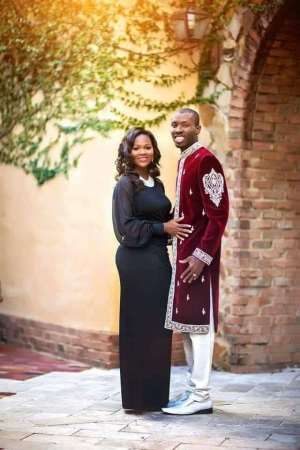 It has emerged that Ghanaian pastor Sylvester Ofori, days before fatally shooting his wife threatened his brother-in-law that he would kill his sister to prove that he was not a fake pastor.
Ofori is based in the United States of America.
The late Barbara Tommey's family in a video cited by GhanaWeb had accompanied her to her estranged husband's home to pick up some documents when she was attacked by the husband in the presence of her family members.
This prompted Barbara's brother, Perry, to intervene.
"I came in here and I told you to sit back. I told you we are not here to argue with you, why did you f**ken attack her?" Perry quizzed.
Perry then instructed Ofori to go to the other room and not to come out.
"I'll f**k you up, I'm telling you," Perry added.
Pastor Ofori then confronted his brother-in-law saying, "You were the same person who supported me at the wedding, right? Now you're here to support your sister, the same sister who the pastor told you that, she was a witch, am I right?"
Perry then responded: "We don't know whether you're a Komfo Anokye or a pastor my friend, get the f*k out of here before I f*k you up. We did not come here for you, don't let me hurt you," angry Perry told his brother-in-law.
Perry further accused his brother-in-law of being a fake man of God.
Pastor Ofori in response said, "If I don't kill your sister then I am fake."
Perry then advised his sister to call the cops and file a complaint, but Barbara declined.
"Call the cops. We don't play with threats like this," Perry told his sister.
Barbara replied that her brother should stop those comments because she did not want things to escalate.
However, the brother explained that if the husband, who is a pastor, had threatened to kill her, then there is no time to waste.
Watch the exchanges Sylvester Ofori and his brother-in-law.
additional credit -Ghanaweb.com