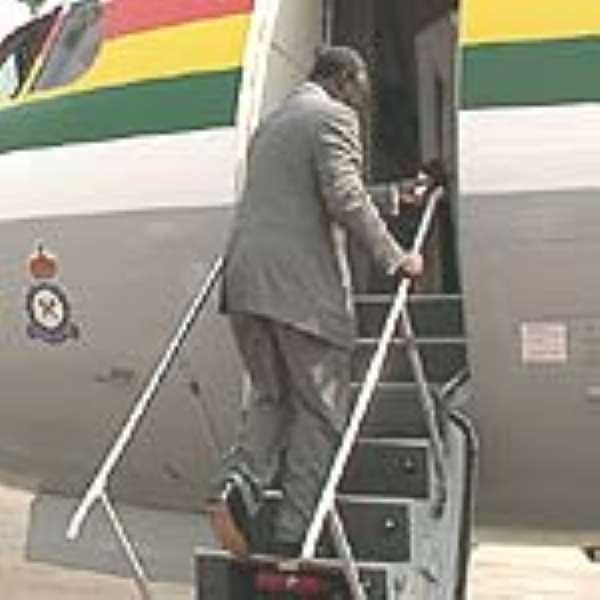 ..He'll Be Away For 13 days
President John Agyekum Kufuor leaves Accra on Tuesday for Cuba, Havana, to attend the 14th Summit of the Heads of State of the Non-Aligned Movement (NAM). The Summit, scheduled for September 11 to September 16, is expected to focus the minds of member countries on enhancing the role of the NAM in the prevailing international system.
A statement signed by Mr Andrew Awuni, Press Secretary to the President and Presidential Spokesman, said the Summit would review the international situation, examine NAM's own roles and methods of work and follow up on the outcomes of major UN Summits and conferences as well as the Millennium Declaration.
"The Heads of State are expected to reaffirm and underscore the Movement's abiding faith and commitment to its founding principles, ideals and purposes, particularly in establishing a peaceful and prosperous world as well as a just and equitable world order." The statement said President Kufuor would continue to the US to attend the 61st General Assembly of the UN, which would among other things, consider the economic, commercial and financial embargo imposed by the US against Cuba.
It said the Assembly would also consider the UN Secretary-General's report on the situation in the Middle East, the question of Palestine, the UN Security Council reforms, disarmament and international security, among otherthings.
The President is expected back home on September 25.
14th NAM Summit kicks off in Cuba
A meeting of the Non-Aligned Movement (NAM) begins on Monday amid uncertainty about the role Cuba's ailing leader Fidel Castro will play, if any, in hosting leaders of developing countries from Africa, Asia, the Middle East and Latin America.
Representatives of most of the 116 members of the Non-Aligned Movement are expected at the meeting in Havana, which culminates on Friday and Saturday in a summit of more than 50 heads of state and UN Secretary-General Kofi Annan.
Among the well-known leaders attending are Prime Ministers Manmohan Singh of India and Thaksin Shinawatra of Thailand as well as Presidents Mahmoud Ahmadinejad of Iran, Pervez Musharraf of Pakistan, and Bashar Assad of Syria.