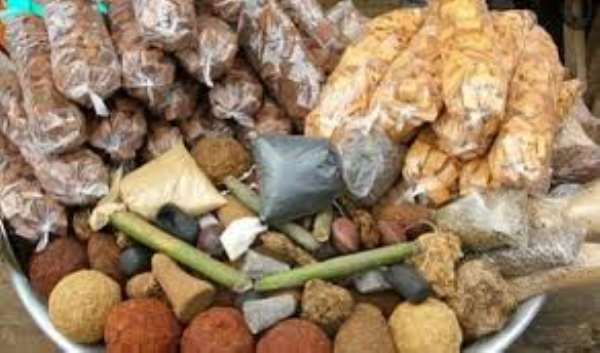 Your Excellency,
Nana Addo Dankwa AKufo-Addo; President of the Republic of Ghana, I bring you warm greetings from people like myself who have a great interest in the development of Traditional Medicine in our dear country.
On Saturday, August 22, 2020, your political party, the New Patriotic Party (NPP) launched its 2020 manifesto ahead of the December 7 polls. Personally, I was really much impressed when I read on page 157 under the section on Health about your government's promise to support the practice of Traditional Medicine in the country. This I think is a step in the right direction.
Traditional Medicine has been practiced for several centuries by our ancestors using different species of plants and animal materials, as well as minerals for the treatment and healing of diseases. Yet since independence, our focus as a country has for a greater extent been on the development of our colonial master's traditional way of healing (Conventional/orthodox Medicine) at the expense of the Ghanaian traditional medicine.
A recent study by the World Health Organization (WHO) indicated that 80 % of Ghana's population have used some form of Traditional Medicine before. The sudden drift to indigenous methods of healing is mostly attributed to minimal side effects, cost effectiveness and easy access for treatment of diseases and related health conditions.
Mr. President, I do not seek to downplay the efforts of previous and successive governments towards the development of Traditional Medicine in the country, but I think there are more expected of us as a country to develop the practice, considering its numerous health benefits and the potential for job and wealth creation.
When the Covid-19 pandemic began in China, it was reported that the country involved 90.6 % of Traditional Chinese Medicine (TCM) practices in their fight against the novel virus and was able to effectively manage the disease. The successes of countries like China in the development of Traditional Medicine is as a result of total government commitment to promote research and fully integrate traditional healthcare practices into the mainstream healthcare delivery system.
Your Excellency, scientific research without doubt serves as a doorway to the development of our indigenous medicine. The presence of a sustainable fund such as a Traditional Medicine Research Development Fund is required to improve and strengthen plant medicine research in the country, to develop and enforce the demands of modern medical practice.
The Centre for Plant Medicine Research at Akuapem-Mampong , and the recently established Institute of Traditional and Alternative Medicine (ITAM) located at the University of Health and Allied Sciences (UHAS), Ho for example, if sustainably funded and resourced would be well positioned to undertake key researches to improve the Ghanaian Traditional Medicine products and services, to meet the demands of the 21st century healthcare delivery.
Mr. President, the Traditional Medicine industry offers great economic prospects that can help strengthen our Cedi and economy at large. It is reported that the global complementary and alternative medicine market size is expected to generate a revenue of USD 210.81 billion by 2026. Harnessing the potential of this green yet ancient field through proper regulation, formulation and implementation of needed policies, will significantly help our country create sustainable jobs for both skilled and unskilled people.
Herbal medicine for example can be featured on the One District One Factory (1D1F) initiative for large scale medicinal plants cultivation and commercial manufacturing of Herbal drugs to among other things meet the needs of the over 40 herbal clinics operating in government health institutions nationwide in the on-going integration scale-up exercise of clinical herbal medicine practice in Ghana, led by the Traditional Medicine Directorate (TAMD) of the Ministry of Health.
Mr. President, I join the call by the Ghana Federation of Traditional Medicine Practitioners Associations (GHAFTRAM) for Traditional Medicine to be made one of the 'President's Special Initiatives (PSI)' Programs to support Traditional Medicine development in the country.
Your Excellency, considering the numerous hospitals in the country, it's very unfortunate that only few have Herbal Units/clinics attached to them. Our vision as a country to have an integrative form of healthcare system wouldn't materialize if we find it difficult to dedicate at least a single room at a state health facility to serve as consulting room for Herbal Medical practitioners (Medical Herbalists) trained by the Kwame Nkrumah University of Science and Technology (KNUST).
I also join the call by the Ghana Association of Medical Herbalists' (GAMH) for Herbal Unit/clinic to be included in the planning and execution of the proposed eighty-eight (88) new district hospitals to be built, so that patients can have the liberty to choose the form of treatment they prefer at the OPD; Be it orthodox or indigenous form of care.
Mr. President, it will be helpful if the National Health Insurance Scheme (NHIS) policies regarding the coverage of medicines is reviewed to make provision for an essential list of herbal medicines that can be used not only in Herbal units in government hospitals but also in private herbal clinics. This will help lessen the cost incurred by patients that visit recognized herbal units and centres for treatment, and help achieve universal health access for all.
It will be beneficial if basic information on traditional health care system is introduced into the curriculum of existing members of the health management team through the Medical Schools, the School of Public Health and training institutions for allied health. This will help professionals from these schools to appreciate Traditional Medicine practice and also promote collaborative care in areas needed.
Mr. President, you have shown in your first term in office that indeed you value your promises and ready to collaborate with relevant stakeholders to execute your promises. I trust the promise you have made concerning support for Traditional Medicine will see the light of the day God willing if you are re-elected for a second term as President of Ghana. God bless our homeland Ghana and make our nation great and strong.
Your faithfully,
Cephas Kwaku Debrah
Greater Kumasi (Kumerica)