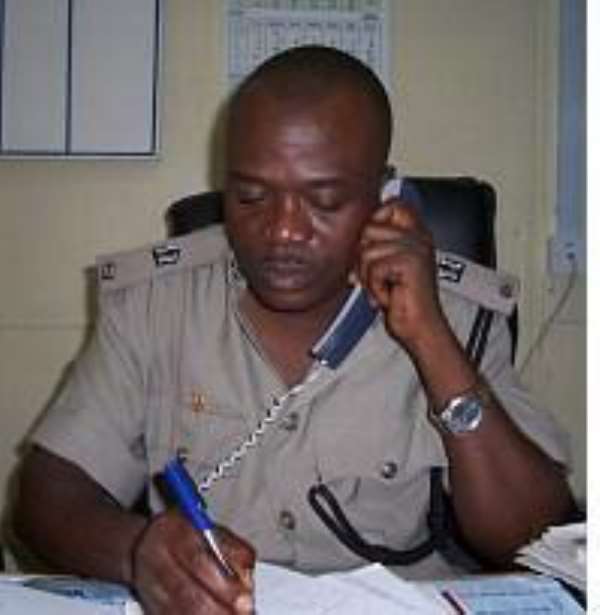 A high court in the capital Accra Tuesday sentenced five robbers to more than 300 years in prison in what the police say is a clear sign the country is taking violent crime seriously. The spate of armed robberies in Ghana has left many worrying about their safety and the ability of the police to fight crime.
Just a week ago, a highway robbery left three people dead in the Upper West region of the country. In Kumasi, Ghana's second largest city, three ministers of state were attacked.
And on Monday, a bank in the center of Accra was held up in broad daylight.
The rise in Ghana's crime rate has made the population increasingly vocal in criticizing the government for its poor delivery of criminal justice.
The high court's lengthy court sentence of five men convicted of armed robbery, police say, is a clear sign the courts are cracking down on violent crime.
Four of the five were convicted of robbery and a conspiracy to commit robbery, and each were sentenced to 65 years in jail. The fifth was sentenced to 60 years in prison.
This was the heaviest sentenced handed down by a Ghanaian court this year. Earlier this year, an armed robber was sent to prison for 90 years.
Before passing the sentence in this case, the presiding justice, P. Baffoe-Bonnie, described armed robbery as a menace to society, and said those involved should be separated from the rest of the society.
Police spokesman David Eklu told VOA that the police are satisfied with the outcome.

"We are actually making a lot of arrests and now that the courts are concerned about the robbery, because that is one of the problems we have in this country," he said. "I think that it is a great morale booster for our personnel, it is a great vindication for the police service, it is a plus for the judiciary that they are taking the issue of robbery very seriously."
Eklu also said the police are working to regulate the use of small arms. The production of small arms has been banned as part of the government's campaign to cut down on armed robberies.
"Basically most of the arms they use are locally manufactured, so discussions are going on, we have the National Commission on Small Arms, we have had a lot seminars to see how these things can be regulated and controlled," he said.
He said the government has also banned the sale of axes, which are increasingly used in armed robberies, and is consulting with manufacturers and importers of axes to control their distribution.
Robbery is a serious crime in Ghana, punishable by a minimum 10-year prison term.