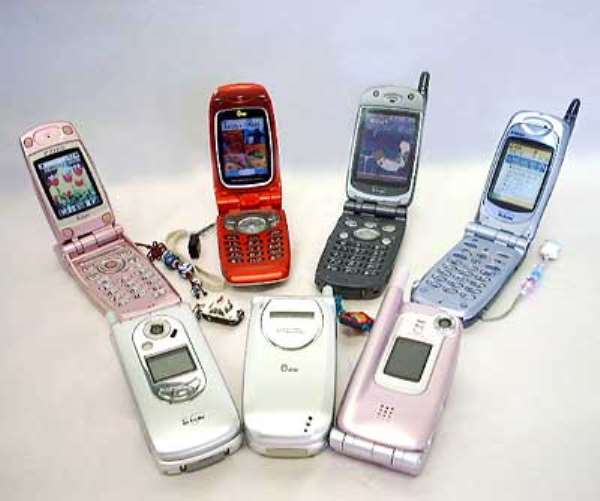 Efforts of the Police Service to thwart the rampant snatching of cell phones and their use in crime was given a boost through the establishment of a strategic Combat Taskforce in Accra which would among other things devise security intelligence mechanism to halt the use of stolen cell phones.
The eight-member Taskforce chaired by Major E Owusu-Adansi (Rtd), Frequency Management Director of the National Communications Authority (NCA), has two weeks to complete its strategic planning and submit its report to the NCA Director.
Inaugurating the Taskforce at a press conference, Major John Ray Kwabena Tandoh (rtd), Acting Director-General of NCA, challenged the members to adopt an education system to encourage cell phone users to register and also report lost phones immediately.
He advised cell phone dealers to desist from purchasing stolen phones, saying "we now have the mechanism to track registered mobile phones....By the establishment of the Taskforce we are sending strong signals to people or group of people found culpable in the syndicates that their days are numbered."
Mr David Asante-Apeatu, Director of the Police Criminal Investigations Department, said the Police Service would collaborate with other intelligence agencies in the country and within the West Africa Sub-Region to prevent cross- border decoding.
"We will ensure that it becomes impossible to decode mobile phones transferred from one country to the other," he said, and advised cell phone dealers to desist from transacting business with unscrupulous individuals and companies.
Other members of the Taskforce are Mr Asante-Apeatu, Mr Robert Palitz, Chief Executive Officer of Kasapa Telecom; Samuel Tetteh-Letsu of Milicom Ghana Limited and Mr Adlai
Kugblenu WESTEL.
The rest are Mr Dannis Owusu Manteaw of Ghana Telecom; Mr Sudip Chakrabarti of Scancom Ghana Limited and Mr Isaac Kobina Kwarko Frequency Management Officer at the NCA as Member/Secretary.