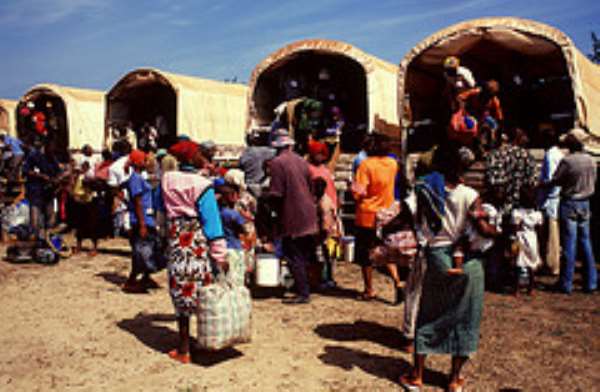 The second batch of Liberian refugees under the Voluntary Repatriation Exercise, left the Tema Port for home on Thursday, on board the Gambian vessel Brenda Corlett.
The Voluntary Repatriation Sea Movement, undertaken jointly by the United Nations Refugee Agency - the United Nations High Commissioner for Refugees (UNHCR), the International Organisation for Migration (IOM), the National Disaster Management Organisation (NADMO), the Ghana Refugee Board and the security agencies, was to enable the refugees to return home and make positive strides towards the reconstruction of their country, which had been torn apart by many years of civil war.
Before going through departure formalities, some of the 300 refugees told newsmen that they enjoyed their long stay in Ghana, but admitted, however, that since there was no place like home, they were duty bound to go back home and contribute to the development of their motherland.
Briefing newsmen at the harbour, Mr Senai Terrefe, Durable Solutions Officer of the UNHCR, said the journey would take four days, and that the refugees would arrive in Liberia on Monday morning.
Mr Terrefe said upon arrival in Liberia, the UNHCR would provide the returnees with an assistance package including food, household items and basic tools to support their re-integration.
He thanked Ghanaians for their proverbial hospitality, which had made it possible for the refugees to get the needed protection, safety and respect, during their long stay in Ghana.
The first Voluntary Repatriation Sea Movement for the Liberian Refugees took place on July 27, and the return to Liberia of this second batch brings the number of persons repatriated with UNHCR assistance from Ghana to a little over 4,000, since the repatriation exercise started in 2004.