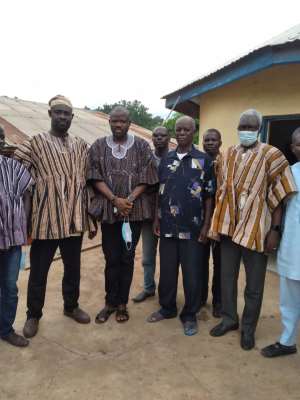 The National Organiser of the opposition National Democratic Congress ( NDC) Hon. Joshua Hamidu Akamba has taken his supervision of the ongoing voter registration exercise tour to some registration centers in the Northern and Ashanti Regions of Ghana.
He said his visit to the Regions is to afford him the opportunity to monitor the ongoing Electoral Commission's registration exercise and to assess for himself the level of progress and challenges associated with the exercise.
Hon. Joshua Akamba was accompanied on his nationwide tour to areas like Bawku, Bolga, Tempane, Garu, Tepa among others by some regional party executives of the National Democratic Congress in the Northern and Ashanti Regions.
Speaking to the media after his tour of parts of the Northern Region and Ashanti Region, Hon. Joshua Akamba indicated that he was satisfied with the level of enthusiasm exhibited by the Northern and Ashanti Regional Executives of the Party towards the exercise.
He was quick to add that some officers of the ruling New Patriotic Party are unnecessarily challenging some Ewes and Northerners residents in Tepa in the Ashanti Region.
He however commended the regional, constituency, electoral area, and polling station executives in the Northern and Ashanti region for their dedication to duty and keeping eye on the ongoing voter registration exercise.
He seized the opportunity to call on the executives to be more united and join forces to campaign vigorously for victory come December 7.