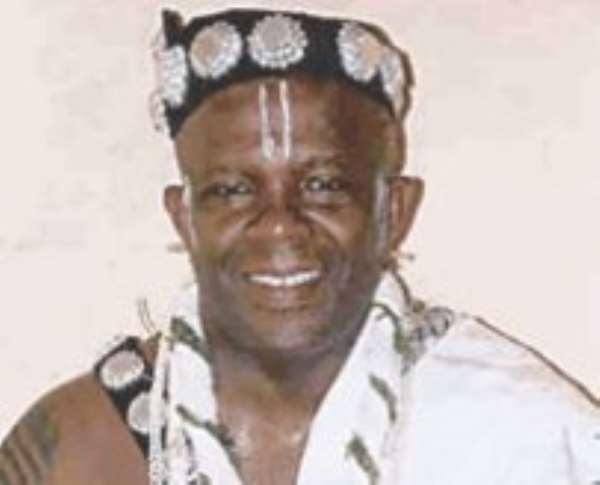 A colourful ceremony, which brought together all the various chiefs of the Ga State and the seven quarters of Ga Mashie last Saturday witnessed the swearing-in of the new Ga Mantse, King Tackie Tawiah III, declaring their allegiance and unflinching support to him.
Led by the Ga Traditional Chief Priest, Numo Tete III, the Nai Wulomo opened the ceremony at Amuginaa, (official home of traditional rites for Ga Chiefs) with the pouring of libation to invoke the presence of the gods after which King Tawiah III was officially introduced to the Ga people amidst shouts of joy and appellations.
The ceremony that was interspersed with drumming, singing and firing of musketeers saw the new Ga Mantse, who is known in private life as Dr Jo Blankson sworn-in under heavy police presence, apparently to forestall any trouble likely to occur as a result of the disapproval from some of the royal houses.
The new overlord of the Ga State clad in white and light blue kente cloth, with an antelope skin hat and other adornment around his wrist and neck, was sworn-in in turns by the chiefs and representatives from the seven quarters of Ga Mashie, where the various royal houses hailed from. The seven quarters are: Asere, Otublohu, Gbese, Ngleshi, Abola, Sempe and Akumadzen.
King Tawiah III in response, swore by the names of the various battles won by the Gas in the past and pledged obedience to the traditions and customs of Ga Traditional stool, the Chief Priest, chiefs, elders as well as the entire people of the Ga State. He said he would respond to their calling every morning, afternoon and evening.
The slaughtering of a cow, which blood was smeared on the feet of King Tawiah III followed swearing-in as a sacrifice to the gods and to put a seal on the ceremony.
The official coronation is expected to take place in October this year by which time, the traditional leaders hoped the former Ga Mantse, the late Nii Amugi II would have been buried.
King Tackie Tawiah III was installed on June 11, 2006 from the Teiko Tsuru We, one of the three royal houses of the Ga Stool under the spiritual head of the Ga State, Numo Tette, the Nai Wulomo. He is the great grandson of King Tackie Tawiah I.
Dr Blankson holds a Bachelor of Arts in Political Science (Peace University, New York), an M.A. in Economics and Ph.D. in Public Law (New School for Social Research, New York). He also holds LL.B and a Dip. In Law (La Salle University, Chicago).
He has been, since 2002, a member of the National Development Planning Commission, and also the Chairman of the Sub-Committee on Private Sector Development from 2002 to date.