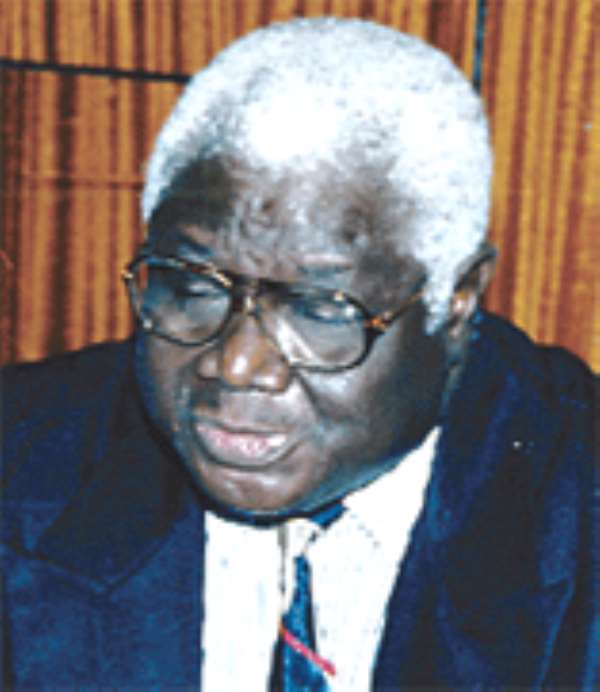 Mr T. C. Corquaye
Panellists at a seminar held in Accra have called on the public to demand accountability from managers of the National Health Insurance Scheme (NHIS) as a means of ensuring that the scheme works.
They noted that health insurance, as it operated in this country, was a tax system, since people paid levies on goods they bought to support the scheme.
According to them, it was the duty of the citizens to ensure that the scheme worked.
The panellists, Mr Eric Otoo, the Chief Executive Officer (CEO) of Avenue Chemists in Accra, Mr T C. Corquaye, a former Registrar of the Pharmacy Council, and Dr A. Badohu, a private medical practitioner, were speaking on the topic, "Changing trends in health financing and the health provider".
The seminar was organised by Pharma Info Consult, a health information management company in Accra.
It was attended by doctors, pharmacists, nurses, hospital administrators and technicians.
In his submission, Mr Otoo said the scheme was a system of shareholders, stressing that the shareholders should be able to demand accountability, just as the shareholders of any business organisation did.
He noted that the way in which the operations of the scheme had been documented made it one of the best in the world but said it was unfortunate that it was not being implemented in the same manner.
Mr Otoo said so far contributors still had little choice as to where to go for health care because it was only the quasi-government institutions which were operating the scheme.
Private sector providers, he said, had still not been made part of the scheme and, therefore, there was no competition for the public sector and health providers still did not feel obliged to provide quality care.
On his part, Mr Corquaye said the greatest challenge facing the scheme was fraud.
According to him, already large amounts of money which were given to the District Mutual Health Insurance Schemes (DMHIS) to kick-start the scheme had been mismanaged.
Most of the money, he said, was used as salaries, administrative costs and for the payment of fraudulent claims.
Dr Badohu also called on the National Health Insurance Council (NHIC) to include private practitioners in the scheme to provide healthy competition in the provision of quality service for the public.
The Chief Medical Officer of the Ministry of Health, Dr Kofi Ahmed, who chaired the function, appealed to healthcare providers to put in systems to reduce cost in order to make the scheme sustainable.
The Deputy Minister of Health, Dr Mrs Gladys Norley Ashietey, reiterated the need to protect the scheme from fraud, adding that with the scheme now in place, "healthcare providers are obliged to provide quality care".
She launched a new drug, Often, an anti-inflammatory drug for the treatment of rheumatic and non-rheumatic painful disorders.
The Director of Pharma Info Consult, Mr Noah Acolatse, also re-introduced another drug, Rectocap, used in the management of malaria.