The Myth Of Holding Palaces And Local Assemblies Accountable For The Distraction Of The Ecological Landscape In The Savanna Zone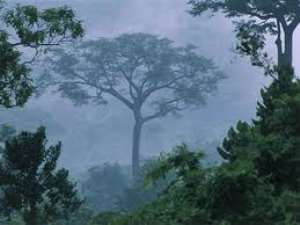 The major source of household energy by most households in rural and urban communities in developing countries is firewood and charcoal. According to the Food and Agriculture Organization (FAO) 2000, there is a positive relationship between growth in population and rate of charcoal use in many developing regions of the world.
Wood fuel supplies about 95 percent of the domestic and commercial cooking energy needs. The demand for charcoal and fire wood is expected to increase from 15.9 million m³ to 20.69 million m³ from 2010 to 2020.
FAO estimates that 11.3 million hectares of forests are lost annually to agriculture, commercial timber harvesting and uncontrolled fuel wood production and consumption, with 90 percent of these cleared forest never replanted.
Meanwhile African's traditional household depends on wood fuels to meet its daily energy needs will not end anytime soon. Many have estimated that more than 90 per cent of the people in Africa depend on either firewood or charcoal for cooking and other heat applications.
In Ghana, wood fuel account for about 71 per cent of energy source for industrial, commercial and household use. In 2010 the Energy Commission of Ghana reported that firewood is the major fuel energy source for rural households while charcoal is used by over 50 per cent of urban household for cooking.
As the demand for charcoal continue to rise , despite the introduction of alternative sources of energy such as LPG and electricity in the communities, Ghana also continue to lose its forest cover , the country has lost close to 70 percent of its wildlife and about 75 percent of its 8.2 million hectares of forest due to over reliance on woody biomass as household and industrial energy source.
Energy from wood has contributed significantly to the accelerating rate of natural forest depletion particularly in the Savannah zone. It is estimated that, between 1990 and 2010 Ghana lost almost 34 percent of its forest cover, representing about 2.5 million hectares at an annual deforestation rate of approximately 2 per cent (Forest Resources Assessment 2010).
Despite the economic benefits associated with charcoal production and related threat to the society, little attention has been paid to the manner in which charcoal is produced due to incoherent policies. Charcoal production, transportation and distribution remain informal and unregulated therefore rendering them inefficient and risky.
Local discussions have lately suggested a complete ban on production. These discussions are fueled by the effects of the charcoal industry's activities on the environment. Despite the economic importance of bioenergy, the industry's environmental problems are huge. These are credited to the felling of trees from farm lands and from virgin forest without replacement.
Traditionally, all forest lands were owned by families, clans, stools and or skins in the pre-colonial era, the forest ordinance of 1927 indicates that reserve forest lands are owned by traditional authorities but held in trust and managed by the government. As a result, traditional owners have no right of access to the trees in reserved forests, except on permit from the Forest Services Division of the Forestry Commission through the permit system. Access is granted to the collector on acquisition of a permit at a fee for a specified period.
According to Ghanaian forest laws, some commercial and medicinal trees in the forest reserves and some plant species are not permitted to be fallen as wood fuel except under a special permit issued by the Chief Conservator of forest with the approval by of the Forestry Commission.
Access to off-reserve wood fuel resources for commercial charcoal production is purely based on informal arrangements with traditional or private or family land owners, different negotiations are made for exploitation rights.
Chiefs may not have enforcement powers as some savanna zone citizens may expect them to have. however, they can pass by-laws or judgement in favor of the forest because the Chieftaincy Act of 2008, Act 759, section 35. (I) enjoins divisional councils to have the same powers as a District Court in civil matters.
Where a chief protects or delivers stool property from an individual or group, section 47 of act 759 of the chieftaincy act provides that the person or group who fails to comply with the chief's order, commits an offence and is liable on summary conviction to a fine of not more than two hundred and fifty penalty units or to a term of imprisonment of not more than twelve months or to both and also to a further fine of not more than. ten penalty writs for each day on which the offence continues.
In this regard, stool or skin lands may fall under stool or skin property because section 44 of the Chieftaincy act 2008 act 759 highlights stool property to consists (1) the stool or skin itself and all the insignia of that stool, (2) any other movable and immovable property handed over or declared as stool property to the chief on installation; and (3) any property movable or immovable acquired as stool property or with stool resources after the installation of the chief. Under above provisions divisional judicial committees therefore have the powers to pass judgement and or issue orders to ban charcoal production in their traditional areas. However, orders issued by traditional authorities is for the security agencies to aid in their enforcement.
By the act of parliament (Act 451, 1997) the Energy Commission was established and given the statutory mandate to manage and regulate the utilization of energy resources in Ghana which includes wood fuel resource. Other official stakeholders in the attainment of broad objective of efficient utilization of the wood fuel resource and associated value chain include: Ministry of Energy, Ministry of Lands and Natural Resource, Ministry of Environment Science and Technology, Ministry of Employment and Social Welfare, Ministry of Trade and Industry, Environmental Protection Agency and Ghana Export Promotion Council.
The 2010 bio-energy policy drafted by Energy Commission of Ghana is to develop the wood fuel subsector. The objectives of the wood fuel policy are to promote and ensure sound management as well as expansion of the country's natural forest for sustainable supply of wood fuel. Key institutions associated with the wood fuel subsector which need equal attention include the Forestry Commission, Traditional Authorities, District/Municipal/Metropolitantan Assemblies, Police, Customs Officials, and Energy Commission.
Wood is sourced from public and private forest lands in both reserved and off-reserved areas. While the management of reserved forests is strictly under the control of the forestry Commission, the supervision of forests in the off- reserve areas is by Traditional Authorities and Private Landowners.
The Forestry Commission has obligations for monitoring and enforcing rules related to charcoal production on private lands and plays a large role in regulating the transport of charcoal. Formally, the Forestry Commission issues a permit at a fee for the collection of wood for charcoal production from reserved forest areas for commercial purposes. The conveyance of charcoal beyond the boundaries of production areas are also taxed by the District Assembly at the forest gate on issuing of a waybill. Police and Customs Officials at various check points and borders check waybills to ensure the authenticity of source of products. Local District and Metropolitan assemblies also collect tolls in respective markets as well as at the retailing points.
Bioenergy is an unavoidable domestic and commercial fuel in Ghana. The bulk of the charcoal produced in-country is from the savannah regions and these regions are arguably the poorest and most venerable communities. It is important to score that charcoal is not a major source of cooking fuel for rural households but rather a source of off-farm income generating activity in the long lean seasons.
The ramifications from the use of the forests as energy resource affects the entire society whiles its benefits accrue to only the individual users. The Energy Commission (2010) reveals that there is an imbalance between wood fuel consumption and yield in Ghana.
In Energy Commission's view the overdependence on wood fuel would increase its consumption levels by four times from 2000 figures in 2020. Demand for wood fuel in Ghana in 2000 was about 14 million tons but projected to increase to between 54-66 million tons by the close of 2020. The projected increase in wood fuel consumption is in tandem with the FAO 's prediction of a continuous increase in charcoal consumption in Sub Sahara Africa. It must also be noted that, the major charcoal producing areas in Ghana (Buipe, Yeji, Bole, Bamboo, Salaga, Atebubu, Wa East, Sissala East, Sissala West) are showing physical signs of forest depletion because of over extraction from the forest without commensurate replacement. The Environmental Protection Agency (EPA, 2003) also discloses that denudation has taken place in some areas of the towns and villages in the savannah, Brong Ahafo, Northern, Upper East and West regions of the country. This put the sustainability of charcoal production in jeopardy. Shutting down commercial charcoal production is challenged by its role in employment creation and the provision of household income.
Energy production comes with winners and losers, either economically, social justice or community cohesion. As the production of wood related energy has being growing higher in Savanna Regions some oppositions called on traditional authorities to disempower producers, others belief chiefs are neck-deep in the center and therefore lost control. Regardless, palaces have issued authority notes or orders to ban producers or transporters of the commodity, all in responds to concerns over climate change that impact crop yields, bush fires, the survival of other animal and plant species, possible disaster from wind and road accidents caused by over-load of charcoal in over-aged vehicles. Apart from the negative effect on economic development, it is our health that is at stake. In the future, rising temperatures will make life impossible in many settlements that are already struggling with heat.
Nationally, access and sustained consumption of clean energy sources are essential for a nation's overall socio-economic development and improved human welfare. Utilization of clean energy among the residents is connected with economic prospects and provision of basic needs that are essential for the sustenance of life including health care, food and housing. Hence, sustainable socioeconomic development at the domestic setting is directly linked to the preference and intensity of energy consumed.
There is a clear need for governance structures and organizational formats that are participatory, inclusive and mindful of the wellbeing of local people. How can local communities become empowered to drive project development and meaningfully engage in the low-carbon (LPG) transition? citizen perceptions of the energy transition and the kinds of roles they see themselves playing in its implementation should be encouraged.
In theory, Protecting the ecosystem involves numerous different cross sectorial stakeholders
that are more informed by public policy and is more likely to include the social groupings directly affected than has hereto before now. However, given societal responses invariably require a radical reorganization of socio-economic structures in order to accommodate change. This will only occur when enough stakeholders are given the appropriate mix of policy tools, support mechanisms and finances to empower them to meaningfully engage in biofuel (firewood and charcoal) control.
The type of access right to wood resources for firewood or charcoal in Ghana primarily depends on whether the resource is located in designated on-reserve or off-reserve forest areas.
Ghana small scale occasional charcoal producers secure dead woods from their own farmlands while large scale producers from the Sissala tribe, negotiate with farmers including landowners to purchase exploitation rights on their farmlands in return for cash or a certain amount of charcoal. Although customary laws do not prevent tenants from planting trees, landowners do not encourage tree planting by charcoal burners. This is so because of increase insecurity of landlords to land rights when trees are planted by tenants, most land owners perceive an attempt by a tenant to plant trees as equivalent to claiming permanent ownership of the land., given the long production period of trees.
Therefore, robust multisectoral coordination is needed if there is a greater need for educating land owners, the traditional and local communities to better understand the intersectional experiences, roles and dangers associated with forest degradation.
In the past, there have been policies often driven by misplaced assumptions that by simply providing appropriate amount of information or issue orders by authorities, citizens will comply accordingly by switching away from negative behaviors and engaging in more ecologically sustainable practices. Fortunately, there is now growing awareness in policy-making circles that people rarely respond in this way. Continuing to provide lip service to polices or indeed ignoring citizens' perspectives of the energy system is costly and time-consuming and has already started slowing down our ecological growth. The reasons for this are in triplet, In the first place it is difficult for the society to understand climate change. Also, environmental polluters are not necessarily those directly affected by their act. Finally, the awareness of having to act against climate change is little pronounced in the public eyes. Society will react if they can physically see or feel the obvious consequences of a pressing problems resulting from environmental damage. It is only after some natural disaster that the public becomes aware of the possible dangerous consequences of climate change and its effects on the environment.
Most communities in Savanna Zones have no access to electricity which is considered as an efficient and clean energy source for cooking and heating. The regions are reported to have exhibited over (90 per cent) dependency on non-clean energy sources.
Ghana's progress in promoting clean energy consumption at the household level has its own steeplechases. The first hurdle corresponds to factors affecting preference for various energy sources, second on the purchasing power of consumers and finally availability of clean energy.
In urban Ghana, over 60 per cent of domestic energy use is from bioenergy whiles nearly 80 per cent of Ghana's population rely on wood sources in meeting their cooking needs. Other sectors which rely on biomass include the industry's micro and small enterprises. The proportion of households relying on non-clean energy is projected to rise steadily by close of 2020.
Access and consumption of clean and efficient energy remains one of the fundamental enablers that is implemented through various national plans and programs such as the Mini Cylinder Free Distribution Programme and the Cylinder Recirculation Programme. The above-mentioned projects attempted establishing a clear path towards universal access to clean energy, and remain pertinent in changing the landscape of energy preference and consumption among households in Ghana.
It is government's plan to ensure that 50 per cent of Ghanaians have access to cleaner and safer environmentally friendly LPG at domestic, commercial and industrial settings by 2030. In respect of this, government in 2014 collaborated with the National Petroleum Authority (NPA) to start the distribution of 50,000 cook stoves and LPG cylinders in rural communities . NPA also engaged LPG marketing companies and local dealers in attempt to set up Mini-refill plants in low access areas in the country. This move seeks to create demand by incentivizing private LPG marketing companies to move to site, discourage the use of wood as a source of fuel and eradicate the harmful effect that continued burning of firewood had on the environment. The CRM of LPG distribution will help Ghana achieve a market driven structure that ensures safety in the LPG value chain, and increases access and adoption of LPG as a clean fuel by consumers. The value chain will also lead to the creation of more jobs .
Despite these Considerable efforts being made in reforming the sector, consumption of clean energy sources remains relatively low at the household level as these households defy government interventions to continue to use non-clean multiple energy sources such as firewood, charcoal and sawdust.
Households with the highest income levels or higher levels of education are less likely to use wood fuels. Married or large household heads are likely to use higher proportions of wood fuels as compared to a single or small household heads. Homes with a higher level of education will most likely consume higher percentages of clean energy such as electricity, liquefied petroleum gas, and other traditional fuel substitutes such as kerosene. The unemployed youth or farmers who are jobless during the lean season will most likely venture into commercial charcoal production as a temporal means of livelihood.
Promotion of clean energy use should therefore target consumers with lower educational levels as well as those in the lower income segments and large families. The need to encourage LPG consumption especially among the urban poor and rural households by reducing the upfront cost of acquiring LPG cylinders is paramount but not a final solution to the problem.
In the writer's view, feasible solutions are those energy access programmes which sensitize households on the utilization of clean energy, these programmess are important especially for illiterate households whose preferences and consumption decision are based on oblivious opinions. Also burning charcoal or fetching firewood in the wild bushes in the rural setting is relatively for free as opposed to the high price of LPG. Therefore, no rational consumer in the village, giving price as the factor would choose LPG over firewood or charcoal. The possibility of the rural woman using the free 6kg cylinder distributed as a decorative in the kitchen whiles continue to hunt for wild firewood is high.
Government efforts to establish Gas Refill Stations in nearby villages with the intention of arresting the situation also comes with challenges. A private entrepreneur who is operating an LPG Refill Station in a nearby village will not give incentives if the government did not to consumers transporting from far or nearby villages.
The cost of LPG gas for villages that do not host Gas Refill Station would, therefore, be the cost of actual LPG price plus the cost of transportation. Using LPG in these villages would, therefore, be expensive than using LPG in urban communities with minimum transportation cost. Resultantly, no rational consumer in these rural communities would elect high price LPG over readily available and relatively cheap or free firewood.
Discouraging the burning of charcoal in the Savanna Regions even though extremely difficult, will require the effective deployment of supply (producer) and demand (buyer) dynamics by the central government.
At the suppliers (88 per cent male) side, the production of charcoal is a 100 per cent rural activity and among the uneducated and unemployed youth, so the government needs to redirect youth engagement in these areas from charcoal burn to accessible and affordable education. As charcoal burning is considered a commercial activity in these areas it is also prudent that the government make agriculture an attractive business and an all-year-round activity in order to preoccupy the rural youth.
At the demand side, Charcoal Marketers (93 percent female illiterate) dominate in the major cities including Accra and Kumasi. To discourage buying charcoal among the urban society, other substitutes to the commodity such as LPG, Kerosene and Electricity must be made abundantly available and cheaper in the markets. It is made possible if central government did not only declare harvesting wood products as illegality but also ensure that the law enforcement agencies and the Forestry Commission are retooled and made stronger than individuals, else we would continue to remain dreamers in our attempt to save the environment.
Let me yank the blame from the neck of our revered Chiefs and place it on Central Government, Local Government Authorities, States Agencies (the Forestry Commission, the National Petroleum Authority, the Energy Commission, and Ghana Gas ) and the Security Services (Ghana police service, Ghana custom, and preventive service) as these departments and agencies are required by law given the acts that established them to protect and defend the environment, to educate on the use and make available alternative sources of energy at our doorstep, to formulate policies and to enforce the laws in our interest. Chiefs are the only custodians of lands who report their frustration and wishes to the central government to act upon. To some extent they make local laws, they do not enforce them.