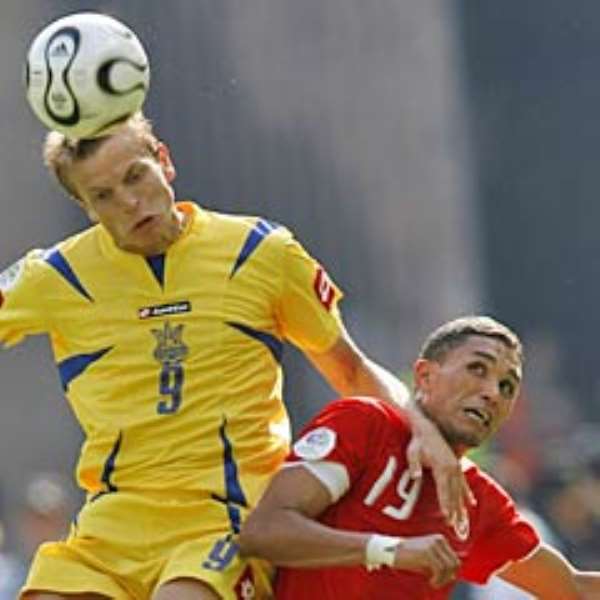 Ukraine's Oleg Gusev beats Tunisia's Anis Ayari in the air
Tunisia bowed out of the World Cup with barely a whimper when they were defeated 1-0 by Ukraine in Berlin.
Tunisia were disappointing, as was the whole match, but referee Carlos Amarilla made three poor decisions that effectively destroyed any chance the Africans had of advancing to the second round.
The first half was, quite frankly, one of the worst displays of football yet seen at Germany 2006 and it was no surprise to see the teams head into the break with the score sheets still well and truly blank.
The talking point of the first half was Zied Jaziri's expulsion on the stroke of half time.
He was rightly booked in the 8th minute for simulation but his second caution was harsh.
He attempted a sliding tackle on Anatoliy Tymoschuk but pulled out when he realised the ball would be beyond his reach. Tymoschuk, however, crumpled to the ground despite barely being brushed by Jaziri and conned Amarilla into dismissing Tunisia's most influential player.
Amarilla's second sin came 20 minutes into the second half when Anis Ayari's free kick struck Andriy Voronin's raised arm and deflected over for a corner. Tunisia deserved a penalty from the incident, but it was the Ukraine who were to be awarded a penalty just minutes later.
Andriy Shevchenko held off challenges from Ali Boumnijel and Serhiy Federov, when he charged into the box but, as his shooting angle narrowed, he tripped over his own feet and Amarilla pointed to the spot.
It seemed more of an accident on Shevchenko's part than an attempt to illegally win a penalty, but he had no qualms in converting the penalty and, in the process, virtually sealing his team's place in the second round.
Roger Lemerre resorted to throwing on Dos Santos when he looked woefully short of fitness, an act of total desperation from the Carthage Eagles' coach that just wasn't enough to haul Tunisia back into the match.