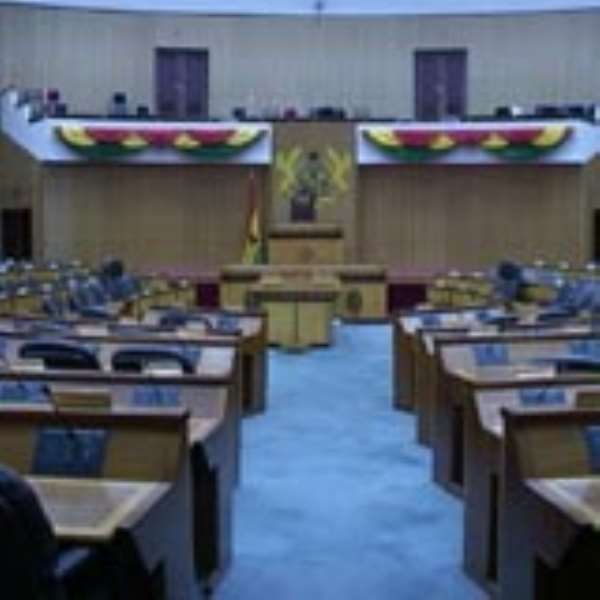 Legislature of Ghana
Mrs Gifty Eugenia Kusi, Member of Parliament for Tarkwa-Nsuaem has expressed concern about the low enrolment at Adiewoso Junior Secondary School (JSS) in the Wassa West District of the Western Region.
She has therefore, called on the Chiefs, elders and parents in the town to institute measures to ensure children were enrolled in the school. Mrs Kusi made the call at the inauguration of a three-unit classroom block estimated at 417.2 million cedis at Adiewoso.
She said it was unfortunate that there were some schools with an enrolment of 82 pupils in a class but the JSS at Adiewoso had 22 students. Investigations at the school indicated that most of the 43 students brought from the old site to the new site had left leaving only 22.
Mrs Kusi pointed out that information available showed that some of the teachers lived at Abura about two kilometres away from the town due to lack of accommodation and attend school late or even fail to report therefore, the pupils and students play truancy.
Mr Emmanuel Kwasi Ayensu, Wassa West District Chief Executive, said enrolment in school would depend on the availability of school buildings but school buildings without pupils and students would affect government's policy on human resource development.
He asked the people to register with the District Mutual Health Insurance Scheme to enable them access quality healthcare. Madam Catherine Davis, Wassa West District Director of Education appealed to the Chiefs to prepare documents on lands released for the construction of schools to prevent encroachment.
She advised parents to take advantage of the Capitation Grant and enrol their children in schools. Madam Davis asked teachers to use instruction hours effectively to attract their pupils and students to stay and enjoy classroom work adding that they should be committed and dedicated to serve as role models and strategise on how best to improve enrolment in schools.
Mr Cosmos Adusei, Headmaster of Adiewoso JSS commended Mrs Kusi and the Wassa West District Assembly for constructing the school block from HIPC Funds.
He appealed to the assembly to construct additional three classrooms for the primary school because six classes shared three rooms, which did not promote effective teaching and learning.