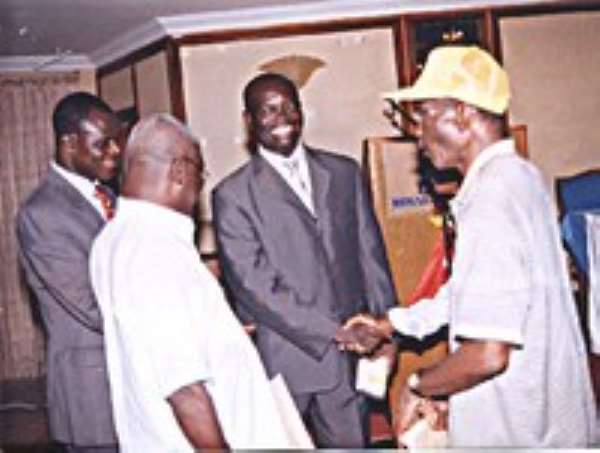 SHELL Ghana Limited has spent about ¢1 billion to support various community development and other activities as part of its social responsibility.
The areas included education, and skills development, community projects welfare, culture, arts, recreations environment and conservation.
It also initiated a Health, Safety, Security, Environment (HSSE) activities including the launch of voluntary counseling and testing programme on HIV/AIDS which will be extended to all other work sites this year.
Mr. David Ahene Nunoo, chairman and managing director, announced this at the company's annual general meeting in Accra.
He said that Shell Ghana yet again achieved a leading market share of 21.3 per cent upon recording another year of strong underlying performance in the increasingly competitive Ghanaian market.
The company's combined sales volume remained at about the same level as last year, gross sales proceeds increased by 43.2 per cent and gross profit by 24.9 per cent.
He said that though operating costs increased by 34 per cent due to increased expenditure on inputs and marketing activities leading to a decrease in the percentage gross margin, Shell Ghana delivered in a net profit tax of ў9.537 billion.
The company could not declare an interim dividend because of cost flow constraints caused by the company's participation in imports of local production shortfall, but Mr. Nunoo said the board of directors had resolved that a dividend of 100 per cent of the net profit after tax for 2005, or ў1,848.90 per share, be paid.
He was proud to announce that during 2005, the Chartered Institute of Marketing, Ghana (CIMG) recognized Shell Ghana Limited as the Petroleum Company of the Year 2004. The company was again ranked amongst the top 100 companies in Ghana in the Club 100 scheme of the Ghana Investment promotion Centre.
On the oil sector business environment, he said that shortfall in the importation of local production of gasoline and petrol continued and placed a significant financial burden of oil marketing companies without compensation for new additional supply side costs.
While pump prices increased during the past year, there was no commensurate margin increase for sector marketers and retailers.
Despite these, Mr. Nunoo said "the company's financial data integrity has remained one of the best within Shell Oil Products Africa. All balance sheet accounts were duly reconciled. Throughout the year and we continue to meet all our financial obligations on time".
*Mr. Daniel Ahene Nunoo (middle), interacting with some of the company's shareholders, including Mr Mailah Mensah (second from left) and Mr Acquah Nunoo (right)