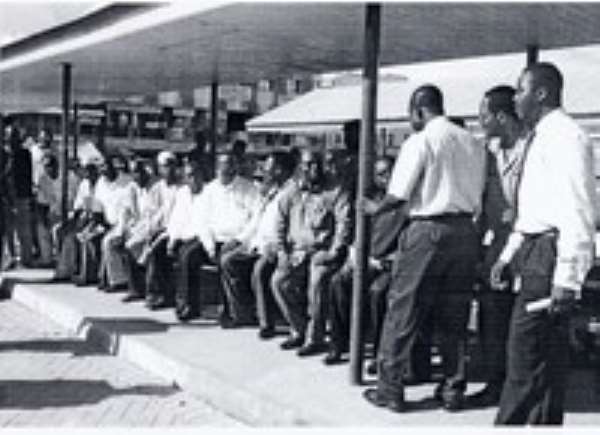 OPERA Square, in Accra, has formally reverted to what it was famous for in the past, when the Minister of Transportation, Richard Anane, handed over the new look bus terminal to the Accra Metropolitan Assembly (AMA).
The AMA, in turn, handed over the ў3.7 billion terminal now known as the Opera Bus Terminal, to its new operators, the Metro Mass Transit (MMT) Service.
The square, which takes its name from the imposing structure that used to be Opera Cinema, now a shopping arcade, was a famous terminal during the 70s and 80s when the red-and-white buses of the precursor to the MMT, the Omnibus Services Authority conveyed commuters to and from other parts of the city.
The new terminal has a full complement of modern facilities such as passenger waiting sheds, washrooms, offices for drivers and management, rest rooms, security lighting system and a well laid out drainage system.
It will be used exclusively by the MMT as the main terminal for its buses on the Mallam, New Town, Dansoman and Odorkor routes.
Speaking at the ceremony on Tuesday, Dr Anane urged MMT to take all measures necessary to ensure that the terminal is kept clean and in a good state always.
"It is our expectation that the MMT and the AMA would ensure that the investment made in the provision of the terminal is protected," he added.
The AMA Chief Executive, Stanley Nii Adjiri Blankson, explained that the AMA's policy of involving all stakeholders in the running of facilities in the metropolis informed the decision to hand the terminal over to the MMT to manage.
He expressed the hope that the MMT will put in the necessary mechanisms to generate money to maintain the facility.
Martin Afram, Deputy Managing Director of MMT, pledged to maintain facilities at the terminal in order to stand the test of time.
To that end, he said, the Opera Square will be fenced with adequate security provided at night.
"MMT plans to extend the Bus Rapid Transit System to the Opera Square. This means that tickets will be sold in advance for high frequency of buses that will not park here for a long time but continuously move between Opera Square and various destinations," he said.
Mr Afram commended the government for bringing this dream into fruition.
Dr Richard Anane, Minister of Transport listening to Mr Alex Twumansi (third from right), Director of Urban Roads, as he and other officials try the seats at the Opera Square bus terminal.
Those with them include Sheikh I.C. Quaye, Greater Accra Regional Minister, and Mr Stanley Nii Adjiri-Blankson, Chief Executive of Accra Metropolis
Picture: Harriet B. Darko.