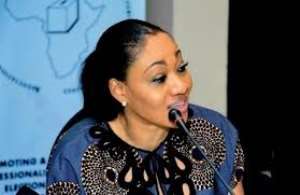 Mr. Mathias Tulasi, the Chief Executive Officer of Literacy Ambassadors Ghana (LAG), a non-governmentmal literacy organisation, passionate about promoting literacy in reacting to a statement issued by the Electoral Commission has said, the Electoral Commission of Ghana as an official body responsible for all public elections as guaranteed by the 1992 constitution must protect its integrity in order to build confidence among Ghanaians.
He said as Ghana started battling with the COVID-19 pandemic, the Ghana Medical Association (GMA) was in dire need of personal protective equipment (PPE) for their Frontline Medical Personnel.
The security agencies, Immigration, Police and Military personnel assigned to enforce the President's directives in locked-down areas all cried for PPE.
Many CHPS Compounds, Polyclinics, and Hospitals across the country at the time were equally without PPE which made some personnel even threatened to abandon their posts should the situation not seen an improvement.
Mr. Mathias Tulasi said the entire country became very worried about the inadequacy of PPE to our gallant health workers when we woke up to news indicating that the Electoral Commission was given enough PPE by government.
Dr. Serebuor Quaiccoe, Director of Electoral Services at the Electoral Commission of Ghana indicated on Joynews television program, Newsfile on the 18th of April 2020 that EC has received enough PPE.
"The Electoral Commission has received enough Personal Protective Equipment (PPE) from the government to enable it to carry out the New Voter Registration Exercise," he said.
According to Mr. Mathias Tulasi, it is sanctimonious by the Electoral Commission to come out with a release in response to a statement made by Hon Haruna Iddrisu that EC has received personal protective equipment from the government by saying "The Electoral Commission has not stated anywhere that it has received Personal Protective Equipment from the government".
Mr. Mathias Tulasi said, there is the need for the Electoral Commission to do the cleansing as well as learning to always be factual since it is only a liar that keeps changing what has been said earlier.
"The Electoral Commission must act in a professional manner in order to build public confidence, respect, and trust for the commission" he added.
He also urged fellow Ghanaians to take the precautionary measures against the COVID-19 pandemic seriously as the confirmed cases keep escalating.