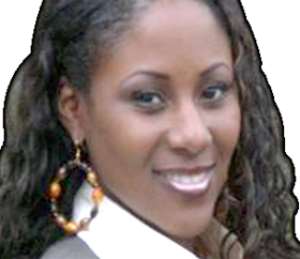 Sabina Prempeh-Arbuah Sabina Prempeh-Arbuah's debut album is certainly a must for anyone who loves relaxation and meditation. The praise medley track 'Mekoso' is the title of the 13-track album.
The album reflects the singer's personality and deep-seated desire to use her songs to win more souls for Christ. Sabina explained that she is a passionate worshipper whose heart's cry is for people to experience God in a deep, intimate way through worship and praise.
Indeed, the track 'Mekoso' offers a surprise package for all. The song has afro beat which is danceable. Sabina also chooses a South African beat for track seven, which is called 'Alleluia Hosanna'.
Her versatility is also manifested in the tracks 'Come Bless the Lord' and 'I Worship You'. The first adopts the typical Western gospel style while the latter presents Sabina more like African-American Cece Winans.
"I believe Christian music should carry an anointing that causes lives to be impacted and brings lost souls to the saving power of Jesus Christ! Let's bring the focus back on Jesus; He is our Creator and God - the Only One deserving of our Worship and Praise," she noted.
'Mekoso' is produced at AB Music Ltd in Tema. It is co-produced by Sabina and executively produced by Dr. James Prempeh and Mr. Nana Agyeman Arbuah.
Now as a professional singer, "My passion is to minister and touch lives with music that carries the very presence of God to heal, restore and bring deliverance to the nations," she added.