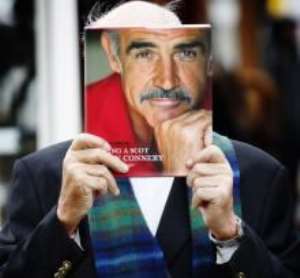 Movie star, Bond icon, philanthropist, proud Scot, political activist - now Sean Connery can also call himself an author.
Connery, who shot to international fame as Ian Fleming's fictional spy James Bond, unveiled his new autobiography, Being a Scot, in his hometown of Edinburgh yesterday - his 78th birthday.
He told the audience that it wasn't the blockbuster Dr No that changed his life the most, but his schooling during his impoverished childhood.
"My first big break was when I was five because I had learned to read and write. I am sure prisons and asylums are full of people who cannot read or write," Connery said. "It took me more than 70 years to realise that.
"It's that simple and it's that profound. I left school at 13 and had no formal education (beyond that). When I realised I wanted to become an actor and not a football player, I went out and got myself an education, I read and I went to the theatre."
His frame is not as sturdy as it was when he ordered his martinis shaken, not stirred, or when he entered a Mr Universe competition, and Connery needed help hearing questions at the Edinburgh International Book Festival.
But he spoke clearly of Scottish nationalism, his life as an actor, his love of soccer and golf, and Donald Trump's proposed golf resort in Scotland.
Being a Scot describes Connery's early life as a milkman in the city's Fountainbridge neighbourhood, then takes a broad look at Scottish culture, including the work of poet Robert Burns and novelist Walter Scott.
Connery is a vocal supporter of the pro-independence Scottish National Party. He lives in the Bahamas and has said he would not live in Scotland again until it gains independence from the UK.
"There is a lack of Scottish history in our schools," he said. "It was always about English kings and queens, Scotland just didn't figure, it was just about all things English."
He was the first and, many say, the best Bond. Connery also starred in Indiana Jones And The Last Crusade and The Untouchables, which earned him an Academy Award for Best Supporting Actor.
Director Steven Spielberg's once said Connery was one of seven genuine movie stars - a claim that seemed to embarrass the actor.
"I didn't pay much attention to that. I was more interested in how much money I made," he said. "The status was not something I was generally interested in or thought about."
Connery also appeared eager to distance himself from plans by Trump to build what the American property tycoon claims would be "the world's greatest golf course" near Aberdeen.
Connery had supported the project, which would, if approved, be built on sand dunes that are legally protected and are home to some of Scotland's rarest wildlife.
"I saw Donald Trump in New York when he had just made the announcement of what he was going to do. I said, well, that sounds terrific, but I had not known what the local implications would be."
The actor quit acting in 2004 and turned down a role in the latest Indiana Jones movie, but he hinted that he would continue to work.
"I have come into a different cycle in my life since I decided not to do any more films. I have a feeling that something is cooking, something is afoot. I don't quite know what it is yet."
Source:Tonight