Musicians Must Check Their Lyrical Content - Akatakyie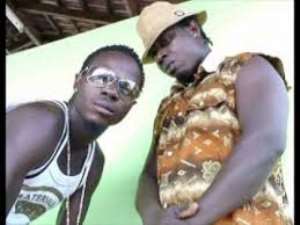 One time Ghana's best hip-life group;Akatakyie with the hit song "odo sisi mi", have advised Ghanaian musicians to check their lyrical content.
Akatakyie, who in real life are known as,Prince Kwabena Badu Asuman (Kobby Culture) and Ebenezer Kwasi Okyere Asumaning (King Pharaoh ),spoke with Dr Cann:
"Now, Ghanaian songs don't last.When they come out, within one or two months then it loses its impact.During our time it wasn't so.this is because the songs lack good lyrical content as compared to Nigerian songs.We shall entreat them to check the kind of lyrics they fuse into their music",They noted.
Akatakyie,within the early 2000,took the music industry by storm with their catchy hip-life tunes like ,Odo Sisi mi and Esi.
They've promised to release their new album before the end of the year . They're now under 16-30 records.