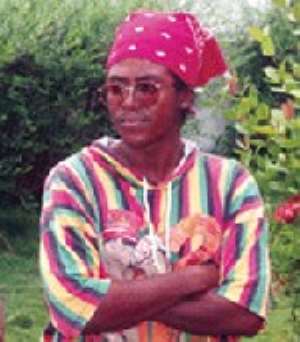 The Supreme Court yesterday dismissed an appeal filed by Nana Kwasi Agyeman, alias Gemann, the musician who shot and killed a taxi driver on January 9, 1995.
Gemann, who was sentenced to death by an Accra High Court in June 1995 for killing Akwasi Adjei over a disagreement on the payment of a taxi fare, had prayed the court to quash the sentence on the grounds that the trial judge misdirected the jury, among other grounds.
However, the court, presided over by Ms Justice Sophia Akuffo, unanimously dismissed the application on the grounds that the evidence provided by the prosecution to warrant the conviction of the appellant was "overwhelming".
Other panel members were Mrs Justice Georgina T. Wood, Dr Justice Seth Twum, Mr Justice Julius Ansah and Mr Justice R. T. Aninakwah.

The deceased, who had picked a passenger to Gemann's residence, refused to accept the payment of ¢1,000 and demanded ¢4,000 but Gemann refused to pay, resulting in a scuffle and the subsequent shooting of the taxi driver.

The High Court sentenced the convict to death but Gemann appealed at the Court of Appeal and lost. He then proceeded to the Supreme Court on the grounds that it was improper for the trial judge to tell the jury that he (Gemann) had the intent to cause harm and, therefore, had the intent to kill.

Mr Justice Ansah, who read out the judgement on behalf of the other panel members, said although the record of proceedings proved the trial judge did not direct the jury well, evidence adduced by the prosecution was enough to warrant the conviction of Gemann.

The court held that Gemann had put up a defence that he shot the deceased in self-defence and further stated that the incident was an accident.

It said Gemann had further stated in his pleadings that the deceased had picked up sand from his (Gemann's) footprints and threatened to kill him (Gemann) and his entire household.

According to the court, Gemann put up a further defence that considering where his mother came from in Ghana, such threats could not be taken lightly.

Citing authorities to buttress its point, the court, however, held that such belief was superstitious and the legal provisions had not made room for such beliefs to be adduced in court as defence.

The court, which stated that it was clear the appellant had used a gun to kill the deceased, queried how a gun could be used to reverse a curse.

The court upheld the decision of the Court of Appeal that the evidence against the appellant was overwhelming and accordingly dismissed the appeal.

Gemann stood trial with three others but two were acquitted and discharged. Abeeku Nyame, alias Jagger Pee, who happened to be a friend of the appellant, was also convicted but was later released from prison.