Lousika releases ' I'm Ready' featuring Okyeame Kwame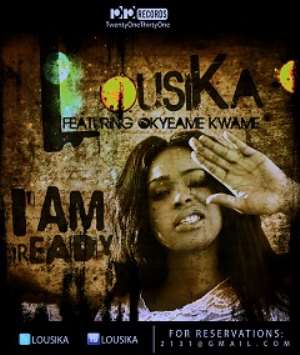 Boss chick Lousika over and over again continues to prove that being a boss chick in a heavily male dominated Ghanaian music industry does not only come by with looks but by talent and hard work.
The year 2012 has seen Lousika release great tunes like 'TAKE OVER', 'HANDS UP' featuring Cabum,' NEED YOUR LOVE' featuring BET Award winner Sarkodie, and 'GET MONEY' to the delight of her fans and music lovers.
It is without a doubt that to live up to a standard is always difficult because sustaining success is difficult than achieving it. However, when there is a blend of talent, determination, diversity and leadership, Lousika stands tall.
It is in the light of this that her brand new track titled " I AM READY" which features Ghana's most versatile rapper Okyeame Kwame is set to invade the airwaves both in Ghana and beyond.