Jay eyes a return to Bamaye show for some unfinished business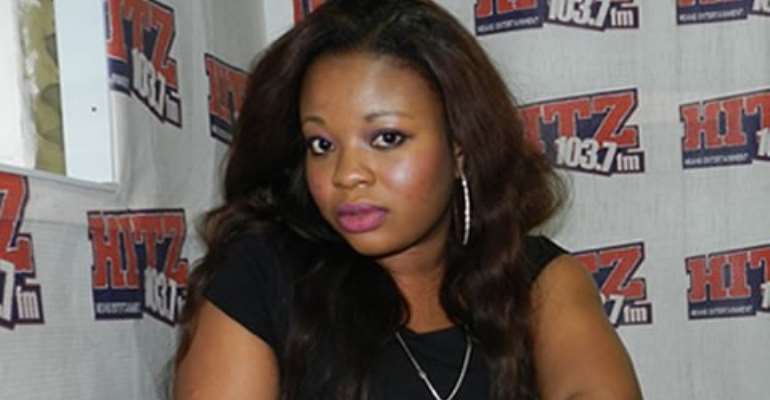 Janet Bandu, known as Jay, does not see herself out of the I'm in love with Bomaye reality show yet even though she was evicted last Sunday.
She is eyeing a return to the Bomaye reality show disclosing that none of the maidens in the reality show deserves the King better that she: "I feel I deserve to win Bomaye's love."
"What me and Bomaye shared was something I would call we had feelings for each other. The fact that I am kicked out of the house doesn't mean Bomaye doesn't love me or I don't love him, we still love each other and I know after the show we will still get along."
She, however, does not blame Bomaye for her eviction. She blames the general public who didn't vote for her.
To her, what she and Alex Bomaye Biney shared was "Love at first sight," and even though she has been evicted, she knows "Bomaye will still come back for me. I am very sure after the show. I know it."
She added that if he doesn't come back for her after the reality show, she will go for him.
While she does not know why her love nominated her for eviction, she will not blame him for her exit rather pointing accusing fingers at her fans and the general public for failing to vote for her to stay.
According to Jay, who said she enjoyed the Bomaye experience, she entered the show to find love and not for the money stating Bomaye had all the qualities she wanted in a man.
She revealed that "all the girls in the house were all real. We were not acting," and that did not scare her: "I don't care whether they are in love or not. It is me; I am also in love so I was also doing my own thing to get to him."
Jay's major highlight in the Bomaye house was the intimate times she shared with the King. "We kissed several times," she said adding, "I enjoyed, it was cool, it was very sweet. I was in love with him."
The 22-year-old is a graduate of IPMC and has also completed an acting course at the Ghallywood Academy of Film Acting. Jay said she is looking forward to establishing herself in the Ghanaian movie industry soon.