May 12, 2012
|
New Discovery
BITTA SWIT "JOUER" MUSIC VIDEO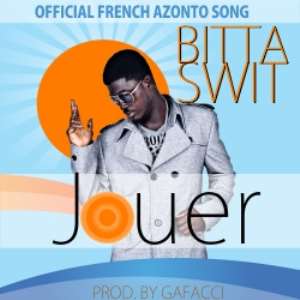 ARTIST: BITTA SWIT
SONG: JOUER
DIRECTOR: KINGSLEY OSEI BONSU (GhKings) - OM STUDIOS/STUDIO 09
DOP: CHRIS MAWUTOR - OM STUDIOS
"Jouer" which means "Play" in French will be casted as a colourful and fun music video.
GhKings (Director), "We are trying to create a world where everyone loves Bitta Swit…"
"We are making a video to meet international standards."
The video will be casted as Bitta Swit is being loved by everyone around him. Everywhere he is found people become elated and joins the fun.
Bitta Swit meets a girl and tries to lure her (lead girl) and to show her the fantasies she could have. The girl then tries not to be interested. She starts to walk away and Bitta Swit follows her. She later find herself amidst her friends and Bitta Swit appears around whereas everyone's so in love with him.
Later the girl then walks away from the scene and Bitta pursues her. The lead girl finds herself a couch and tries to relax and Bitta Swit joins her. She therefore stands up staring Bitta Swit whilst other girls join him and tries to flirt with him. She gets bored and move on, again Bitta Swit pursues her.
They later come across an old man and woman at the bus stop who are trying to find the nearest "Azonto" land (Ghana) or "Alanta" Land (Nigeria). They can't believe they're witnessing their favourite act just pass by. They take a look at Bitta Swit and the girl, and they start to dance.
Later the girl (lead girl) finds it irresistible to like Bitta Swit and the girl appears to be an official DJ for Bitta Swit.
Andy Dosty (Radio/TV Presenter), "This song will surely get international recognition…"
Okyeame Kwame (Artist), "He has got all the support to make it..."
Abraham Ohene-Djan (CEO, Ohenemedia), "….Listened to his first single and he's good"