18 July 2011
|
General News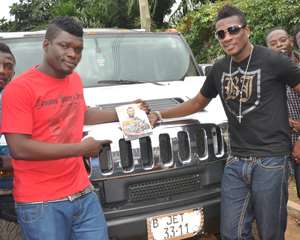 Hip-life musician Castro may have to look elsewhere for a new stage craft to boost his music career because his secondary school mate Asamoah Gyan, the Ghanaian soccer star who is a striker for England's Premier League club Sunderland, says he is no longer interested in music.
Asamoah Gyan aka Baby Jet, for close to a year now, has been the main charm that has shot up Castros's music career after the musician agreed to feature on one of Castro's songs,   'African Girls ',  which became an instant hit with the 'back on and on dance' .
Asamoah and Castro again released a duet, 'Do The Dance', and the song is still topping music charts.
Indeed, Asamaoh Gyan has been the main reason why Castro seems to be reigning on the music chart in recent times but the soccer star says it is time to say goodbye to showbiz and concentrate on his football career.
Baby Jet is leaving the music stage at a time the applause is loudest for him and he would be forever remembered as one of Ghana's best entertainers. But it definitely does not come as welcome news for Castro, who more or less is soaring to greater heights on the wings of the footballer.
Reports say Asamoah Gyan is quitting music because a couple of soccer legends have advised him to concentrate on his football career if he really wants to go far in life and achieve greater feats.
Felix Aboagye, a former Ghanaian International footballer who played for Mumbai FC and Anthony Yeboah of 'Yegola' fame are reported to be among the several soccer legends who advised Baby Jet to concentrate on his football and shun his night club music performances and musical concerts.
'My two songs which have been top of the charts are okay for now. I have to concentrate on my football career…I have heard people saying 'he should concentrate on his football career'…But I am a very determined person with my job. Off the field, I joke a lot but when it gets to work time, I am fully concentrated,'   Gyan was quoted by Ghana soccer.net.
Less than a week ago, Baby Jet spoke to NEWS-ONE about how he handles his fame:
Most Entertaining Person in Ghana
'Yeah, it is true I was given that award recently and I thank Ghanaians for that. I just do my best as I said. When I see the crowd and they want me to entertain them, I just do it without feeling shy or feeling big. I am me and I want them to see me just as I am. Castro and I rehearse a lot and I try to do my best for the fans.'
What is the magic?
'Well I attribute it to God. I just do my best and leave the rest to him. My big brother here has been very helpful and he is my secret to success. He advises me and tells me how to go about things from football to everything. I owe him a lot and I must say that here.'
The Asamoah Gyan Dance
'That one too is just great and we would be releasing a new one soon. There are more interesting things we want to do for Ghanaians because we love them a lot. As to how I learnt that dance, I can't tell but my boss Castro is here and he may best explain. I just do my best to entertain people especially when I score. I do the dance and everyone seems to like it. I feel happy because we plan to do it on the field and all of a sudden people love it. People should just watch out for something new. Most of my foreign friends (players) love the dance. Anytime we are in the dressing room, I teach them because they are all trying to learn it.'
Asamoah Gyan Foundation
'My brother and I would be coming up with the Asamoah Gyan Foundation this December. It would be a charity foundation and our priority would be to promote female education. We would be doing other things to help society but for now, our aim is to promote the girl child as far as education is concerned. I have the passion to give back to society and that is what pushes me to do this.'