Fredyma, Others Commend Virtual Sound Laboratory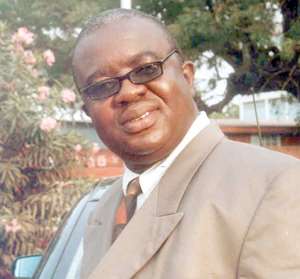 Fred Kyei Mensah, CEO of Fredyna Studios
A group of stakeholders in the music industry have commended the Virtual Sound Laboratory for its immense contribution towards the building of an energetic music industry in the country.
According to them, since the company was established a couple of years back, it had helped and continues to help improve the music industry by providing stakeholders as well as musicians with music recording studios and good musical equipment for live band performances.
Speaking to BEATWAVES in separate interviews in Accra, some of them noted that as the official local distributor and agent for various global leaders in the pro audio, musical instrument and accoutrement industry, Virtual Sound Laboratory, for the last nine years, had the honour of meeting the various sound and technical needs of Ghanaian institutions and individuals; and through its instrumentality and managerial expertise, it had lived up to expectations of both suppliers and clients.
BEATWAVES gathered that due to the increasing number of musical equipment being imported into the country, a large number of stakeholders as well as event organizers were currently rushing to Virtual Sounds for genuine musical equipment for their outdoor musical events.
Virtual Sounds is the only musical equipment distribution firm that gives credit facilities to musicians and event organizers, and most of the musicians and event organizers who have benefited from the company can attest to this.
Fred Kyei Mensah aka Fredyma, chief executive officer of Fredyma Studios, one of the leading sound recording studios in the country, told BEATWAVES in a chat that Virtual Sounds Laboratory products were original and very durable.
He noted that Virtual Sound Laboratory  had qualified and skilled personnel who were well known and respected, not just in the sale and distribution of musical, sound and pro audio equipment, but more importantly sound engineering and consulting.
Fredyma disclosed that there were a lot of pirated musical instruments in the country which, according to him, were creating a lot of problems for the industrial players, adding that most of these pirated or fake musical equipment did not have good sound quality.
'I think the presence of Virtual Sound Laboratory has boosted the image of a number of recording studios as well as the promotion of live band music in Ghana. Most of the equipment used by a number of recording studios and event organizers are from Virtual Sound'.
On his part, one of Ghana's music Icons, Abrantie Amakye Dede, disclosed that most of his equipment were purchased from Virtual Sound, adding that he enjoyed using products from the company.
He noted that Virtual Sound, which had a large number of clients, was the only company which made credit facilities available to musicians and stakeholders in the industry.
Since it was established, the company has provided and continues to provide support for musical event organizers, recording and broadcast studios, among others. The company also offers excellent consulting and after sales service and repairs.