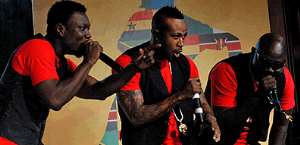 VIP performed at the event

With the holiday season now fully upon us, we knew Accra was going to get more festive as the days go by but Loud in GH took our expectations to a completely different level.
All roads led to the Accra International Conference on Saturday December 18th 2010, as party-goers flocked the Dome to witness the much hyped event. Anticipation for the concert had been building ever since announcements premiered a few weeks ago across the nation. The concert which was organized by YFM 107.9 in collaboration with EKB records set the standard for concerts in Accra, as the 5000-seater capacity was filled to the brim with a partying crowd.
Patrons were treated to performances by an exclusive line-up of artistes and music by the nations most dexterous DJ's. YFM's Nana Kwame Osei Sarpong aka Nokus and Black Boy featured as MC's for the event.
It was arguably the only place one would see such a power house line up live on stage, as Ghana's finest performers, Becca, Eazzy, Samini, VIP, Richie, Tinny, Sarkodie, 55 and Trigmatic, took to the stage.
The event was broadcasted live on YFM 107.9. The Dome was transformed into an open concert hall with mini bars flanking it on each side as the MC's and DJ's took to the stage and got things going with a full house party with guests yearning and begging for more.
Evidently, organizers of the event had pulled all the stops to ensure that the event lived up to its hype and indeed it did.
Loud in GH was initiated by YFM 107.9 Hz in partnership with Kiki Banson's EKB records.