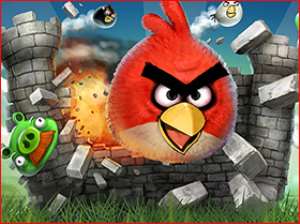 Angry birds
A top-selling mobile phone game featuring birds being detonated to kill egg-stealing pigs could become a blockbuster movie if talks with Hollywood studios pay off.
Finnish company Rovio told Sky News it is confident of bringing its Angry Birds game to other platforms, which could extend to TV shows, toys and comic books.
Rovio spokesman Ville Heijari told Sky News: "We're interested in building this brand beyond the current game.
"We've been in discussions with multiple parties, mostly in Hollywood. There has definitely been an interest in the characters and the property.
"We're really quite confident we'll release it in other formats in the future."
The game, released in August last year, has become the number-one selling iTunes app in 60 countries, while a trailer for it has been viewed more than 5.5 million times on YouTube.
It has topped the paid-app rankings since February in the UK, where it costs 59 pence.
"It appeals to young and old, boys and girls," Mr Heijari said.
"We've noticed it has this universal appeal and of course it's very competitively priced. It's a great package overall."
Duncan Bell, operations editor at gadget magazine T3, said it was easy to see how the concept could be taken further - but felt Hollywood might be a step too far.
"Angry Birds is hugely popular, a classic 'pick-up-and-play' game that you can play for 15 seconds or half an hour.
"It's got memorable characters that make it ideal for spin-offs and merchandise but it's so simple that it's not going to work as a film. Not a very good film, anyway."
However, Mr Bell said the phenomenal success of apps in general and Angry Birds in particular meant anything was possible.
"Whatever it is about this game, it's struck a chord with a lot of people," he added.
"Loads of people play it, it has a very high approval rating, the people behind it are ambitious and apps have a very broad pop-culture appeal - so who knows?"
Source: skynews