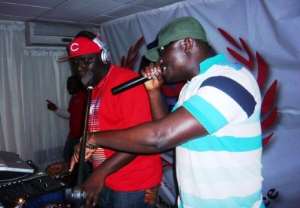 DJ Black and Bola Ray at show.

It was all fun and excitement when Joy FM's hit squad, led by DJ Black, took its popular weekend entertainment show - Open House Party - to Citizen Kofi in Osu.
It was not just any other Open House Party show; the show coincided with the 15th anniversary celebration of Ghana's No. 1 radio station, Joy 99.7 FM.
Enter gallery from link to see photos of the event this link.
By Ernest Dela Aglanu