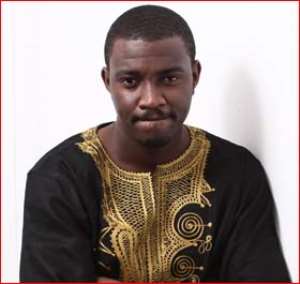 AFTER PRODUCING Twi movies such 'Agya Koo 419', 'Ghana Girls', 'Abodam' and 'Galamsey', from which Ghana's comic actor, Agya Koo, made fortunes, Kumasi based film production house Peace Films is taking up the production of 'English' movies and perhaps saying goodbye to the local industry.
The production house is currently set to release its debut movie in English. This will be heralded by an anticipated premiere at the Silverbird Cinema in Accra, come Friday, April 23.
The movie is titled 'The Supremo' and it features the crème de la crème of Ghanaian movie stars including John Dumelo, Prince David Osei, Kalsum Sinare, Juliet Ibrahim, George Williams, Roselyn Ngissah, Soraya Mensah, Jackie Appiah and number of new faces such as Too Sweet and the popular sound engineer, Zapp Mallet.
Last Sunday, a press preview was held to give a section of the press an exclusive preview of the movie. The issues that came to play at the event were the cast and the quality of the movie, for the fact it was the production house's first 'English' movie.   
Directed by a Ghanaian called Asare Bediako, the movie is action packed. It is a twisted tale about Chantal (played by Jackie Appiah), Charles (played by John Dumelo) and Ferdinand (played by Prince David).
Chantal is caught in a love triangle with Charles and Ferdinand, who happens to be the son of a president (played by Zapp Mallet). 
Charles and Chantal have a healthy and happy relationship. Via a friend's party, they meet Ferdinand, who would stop at nothing to get what he wants. Even though, he knows Charles is already going out with Chantal, he still wants her and he is ready to pay any amount to get her.
With unexpected twists and turns, 'The Supremo' is without doubt a must- see movie.
CEO of Peace Films, Joseph K. Serebour, told the media including BEATWAVES that he decided to change over into producing 'English' movies because his production house wants to attract a different target audience, including those outside Ghana.
He said because they have been producing Twi movies for so long, they had a difficult time getting the cast for their first 'English' movie.
"It took me well over three months just to get the cast. It was difficult getting all because we have been producing local movies. We contacted Majid Michel but he refused. He told us he will agree to cast for the movie if the director is not a Nigerian", he disclosed.
Friday's premiere is expected to be big as it will to attract hordes of fans as well as the cast who will grant photo sessions with patrons.
After this event, there will be subsequent screenings at Takoradi, Koforidua and Sunyani to give movie enthusiasts in those areas the opportunity to see the movie before it finally comes out.
 By Francis Addo