January 8, 2010
|
Movie News
Madjid, Ramzy star in ``Guilty Pleasures``
Chris Twum - Ghanaian Chronicle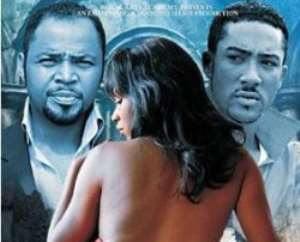 The year 2009 has been tagged by Arts writers as a booming year for the Ghanaian movie industry. Collaborations between Ghana and Nigeria have been very rosy for actors of both countries.
Another latest Ghana-Nigeria collaboration movie, which has ushered the New Year 2010 - Guilty Pleasures, would be premiered at the Silver Bird Cinema on Friday January 8.
This movie tells a story of how two divorced friends find themselves in broken marriages as a result of infidelity - one the culprit and the other the victim.
Starring the crème of both the Ghanaian and Nigerian movie industries, 'Guilty Pleasure' is produced and directed by Desmond Elliot and Emem Isong.
The high budget movie shot entirely in Nigeria delves into the every day intrinsic love stories of marriage, infidelity, trust, mistrust, betrayal and hatred.
It attempts to find answers on why married couples cheat on their partners, and what to do and what not to do to your married partner.
A desperate and assertive housewife, Elizabeth locked up in a boring and dreary marriage is confronted with the challenge of dealing with a self consented and controlling but loving husband, Terso (Ramsey Noah), and an irritating brother in-law (Madjid Michel).
In search of fulfillment, respect and satisfaction, Elizabeth finds herself emotionally attracted to an exuberant brother-in-law she so much detests.
Elizabeth is weary of starting anything silly aware of the grave consequences of falling in love with her strict husband's brother, but emotions get the better part of her as she cannot but seek for divorce. Before he could grant her wish, Terso finds out his wife is leaving him for his younger brother.
Starring Ramsey Noah, Desmond Elliot, Mercy Johnson, Madjid Michel while introducing fast rising star Nse lkpe Etim.
Showing at the plush Silverbird cinema on Friday 8 January 2010, at 6pm and subsequent days. In attendance at the premiere will be some crew and cast members of the movie, including Desmond Elliot and Tonto Dike.