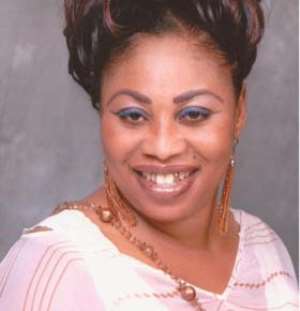 Afua Ampofuwaa
WELL-KNOWN Belgium-based Ghanaian high life musician Afua Ampofuwaa has cautioned her former husband, Kaakyire Kwame Appiah, to stop telling Ghanaians that they are still living together as marriage couples.
She noted that since they are no longer a couple, Kaakyire Kwame Appiah should desist from any act that seeks to undermine her image and business.
She told BEATWAVES in a telephone interview from her Belgium home that she was shocked when she got wind that her former husband, who is also a musician, recently told Ghanaians on Deloris Frimpong Manso's television programme that they are not divorced, as is being speculated by certain people.
She declared, "Kaakyire Kwame Appiah is not my husband. We divorced in 2003. He should stop telling Ghanaians that we are still together.
He should leave me alone to deliberate on my musical career and business".
The mother of three who could not tell BEATWAVES what led to the break-up said; "All I am saying is that we are divorced.
Kaakyire should stop discussing issues concerning me in public for the sake of peace".
 By George Clifford Owusu