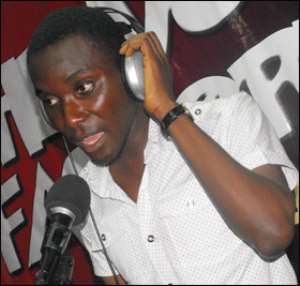 Jeff
EVICTED RETURNEE, , was on Wednesday evicted again from the on-going Citi FM music radio reality show, Voice Factory.
Despite his hearty return to the competition last week, the combined votes of the judges and the public could not keep him in the competition.
There were two sets of performances during last Saturday's show.
Fritz and Bismark kick-started the performances with Akon and Michael Jackson's Hold My Hand. With their occasional misplaced notes and pitch, it was evident the duo tried a little too hard to impress.
A rather spirited performance came from Solace and Abdul during their rendition of Celine Dion and R. Kelly's I'm Your Angel. The duo sounded like a real team and made it obvious they were completely enjoying themselves.
A Whole New World by Paebo Bryson and Regina Belle was performed by Hellen and newly promoted . The two were a formidable team but had a few problems with articulation.
Though jointly glad by the return of , they pointed out how unimpressive they were as a team, noting however that individually they were remarkable.   
Independently, Fritz performed Always And Forever by Heat Wave, and despite what he later described as poor health, he delivered a creditably pleasant rendition of the song.
Solace was next with Listen by Beyoncé Knowles. It was a pleasant experience to listen to her sing, though she occasionally drifted in and out of key during the high pitches in the song.
Bismark's presentation however seemed devoid of the enthusiasm that usually accompanied his performances. "I don't think you gave it your all", summed up the judges views of his performance.
's rendition of Josh Groban's You Raise Me Up, was sombre and soothing, and as the judges later admitted, delicate.
Hellen followed with A Moment Like This by Kelly Clarkson, but missed her moment to shine when she sung virtually out of key all through the song.
Abdul ended proceedings with Easy by Lionel Richie. He seemed in total control of the song from start to finish and completely immersed himself in the performance.  
Join Sammy Forson on Citi Drive this afternoon at 4:15 pm to find out who gets a second chance in the Voice Factory competition. Remember that voting closes at 12 midnight on Tuesday and resumes after the eviction show later today. Voice Factory is powered by 97.3 Citi FM and sponsored by Coca-Cola...live on the Coke side of life, and Ashfoam ...Feel it, Know it, with support from Rana motors.