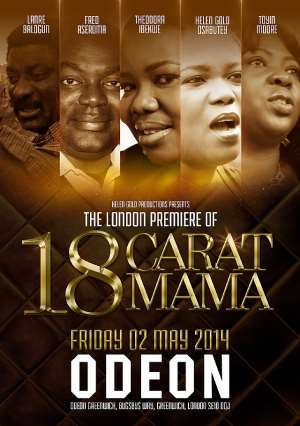 The Glitz and Glamour of the Premiere of Helen Gold's "18 Carat Mama"
The night of 2nd May brought out the crème de la crème of UK Nollywood. This time it was for the premiere of the Comedy Drama, 18 Carat Mama.
As the crowd swelled, there were memories of the Shameful Deceit premiere. There was a visible battle for fashion domination. Interviews galore on the red carpet while the photographers snapped away.
Some of the cast and crew were already in attendance: Executive Producer, Godwin Osabutey; Director Titi "Lady TJ" Jacobs-Aseroma; Nollywood legend, Fred Aseroma; Director of Photography, Nelson Spyk; Mac Edobor; Ade Bello; Hilda Williams; Olakitan Adebayo; Florence Okonkwo; Victoria "Vee Nick" Nicholas; Jedidah "The Minstrelle" David; Alfred Fayah and yours truly.
As the Hummerzine pulled up, the crowd rushed to see who else had arrived: Helen "Gold" Osabutey; Theodora Ibekwe-Oyebade; Toyin Moore; Mabel Ayeko Osabutey; Danny Erskine; Tolu Yesufu; Marie Gomez; Tiya Odebode; Tyna Gibah Sonuga and Sarah Bello.
Helen and Theodora were delightfully made up by Hair and Make-up genius, Libeks BC; Theodora's jewellery was by Accessories Lounge. Toyin Moore was made up by Vera and wore a sleeveless gold dress.
Desiri Couture designed Helen and Theodora's dresses: Theodora wore a black floor length jersey gown layered with soft net fabric designed to enhance the silhouette. The dress features gathered sleeves, a standing handmade needle lace collar with floral motifs, exposed gold thread crocheted fasteners and buttons adding a unique touch whilst highlighting the striking black and gold floral belt. Helen wore a black jersey gown featuring soft Helenka mesh layered bodice designed to flatter the silhouette, striking gold metal leaf embellishments; the V-neck adorned with black and gold motifs eliminate the need for a necklace; the dress is fitted through hips, balance with fish tail hem gathered sleeves with the handmade crocheted buttons and fastening adding an elegant touch.
Nollywood legend, Lanre Balogun joined yours truly for an interview with African Dazzle before proceeding to see the much talked about movie.
Other notable celebrities that turned out to support Producer, Helen Gold were: Ruke Amata; Rita Nzelu Okoro; Victoria Inyama; Dr and Mrs Ayo Coker; ZAFAA Supremo, Sam Anwuzia; Collins Archie-Pierce; Adaeze Udemba; Metamorphosis Director, Nick Pelas.
It was a wonderful turnout and a brilliant movie, which focused on Cervical Cancer.
The After Party at South Bank Bar and Kitchen was well attended. Seyi "Wotever Cakes" Oluwamayowa provided a surprise celebration cake.