April 24, 2014
|
Nollywood Biz
NigeriaFilms.Com Pours It All on The 'AY' Brand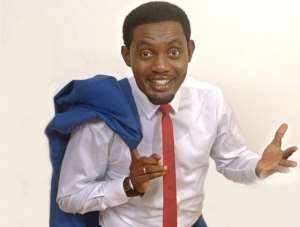 Nigerian comedian, Ayo Richard Makun, better known as AY, is one successful show host who is very skilled at what he does. The Delta State born stand-up comedian had been into showbiz for several years before his path crossed with that of his mentor, Ali Baba in 2005.
The Theatre Arts graduate of the Delta State University gained fame through impersonating Rev. Chris Okotie in his hilarious jokes. By 2006, AY was named the Best Up-Coming Comedian in Nigeria. Even though many has criticised him for not been funny and skilled as he claimed to be, he still strived hard to be at the top of his game.
Before taking comedy as a career, AY once tried his hands in dry cleaning, bar tending, scavenging, and barbing. The comedian who has also featured in several home videos is well known for his live shows as well as his television programme, The AY Show. The TV show won the Best TV Comedy Show in 2008, while he was awarded a UN Peace Ambassador in 2009 after winning six different awards in 2008.
Also, through his monthly AY's Open Mic Challenge that holds every third Sunday at The National Theatre, Lagos, AY has become the 'father' of many up-coming and established acts. The show has discovered the likes of Seyi Law, Elenu, Emeka Smith, MC Shakara and a host of others.
The multi-talented comedian rakes in millions of naira from organising shows within and outside the country. He also has endorsement deals from multinationals worth several millions of naira.
From 2007 to 2012, AY was reported to have earned over N230 million from different shows and endorsements. In 2007, he held Lagos spellbound when the second edition of AY Live, Lagos Invasion drew a record crowd forcing him to do two shows instead of one, as planned.
Of course Like his mentor, Ali Baba, AY has huge investment in real estate, event management, Fashion outlets, and hospitality.
Last Easter Sunday was his AY show, the happiness edition which hosted a lot of people. The AY also has a Sitcom the AY's crib which has been most Nigerians favorite Sitcom.