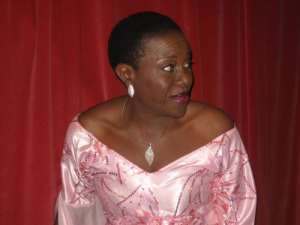 Veteran actress and director Joke Silva fondly dubbed the "Silva' lining of the Nigerian film and entertainment industry, is an award winning Nigerian actress, with a successful and influential career which has spanned well over 3 decades. A talented writer, director, producer and performer, Joke is renowned for the memorable roles she has played both off and on screen. Her award winning career is rivaled by few and respected by many.
Joke Silva, born 29 September 1961, in Lagos, Nigeria, into a family of four children. She attended Holy Child College in Lagos, after which she studied English at the University of Lagos. She then relocated to England and studied drama at the Webber Douglas Academy of Dramatic Art in London.
Joke Silva and Olu Jacobs are presently the "Mr. and Mrs Nollywood", the couple are regarded as the most professional and most experienced in the movie industry today. Olu Jacobs and Joke Silva met at the casting of Wole Soyinka's novel – Jero's metamorphosis at the National Theater during the 21st independence anniversary of Nigeria.
From the first day they met, they have become love-stocked and inseparable till now. Joke Silva has appeared in many movies and soap operas, the most popular among these are; secret laughter of women, letters to a stranger, 30 days, The Amazing grace, and white waters.
Joke Silva is presently a United Nation Ambassador and she also has several endorsements cut across all major industries in Nigeria.
Joke's film credits include Secret Laughter of Women where she starred alongside Nia Long and Colin Firth ('97), Twins of the Rainforest ('98); video, Violated (1995), The Kingmaker (2002, which was produced and distributed by the Lufodo Group), Brave Heart (2003), Owuro Lojo ('93) and in theatre, Jero's Metamorphosis ('81), The Sisters (2002), The King Must Dance Naked ('93), A Husband's Wife (2003), Shylock (2004), A Past Came Calling (2004), Little Drops (produced by Lufodo Productions in 2010), For Colored Girls (2011) to mention a few. She also wrote, directed and produced 'The Drummer Boy', 'Footprints', 'Digging for Gold' and 'Jonah'.
Joke Silva has received several awards, some of which include the Best Actress at the African Movie Academy Awards (AMAA) in 2006 for the movie, Women's Cot and the Best Supporting Actress for her role in the movie 'White Waters' in 2008. She also received the EMOTAN Award by African Independent Television (AIT) as well as a SOLIDRA Award for Visual Art.
Aside from her career as a performer, Joke has been able to find an entrepreneurial outlet for herself ; she and Olu Jacobs own Lufodo Group, which encompasses Lufodo productions, Lufodo Academy of Performing Arts, Lufodo Consult, and Lufodo Distribution.