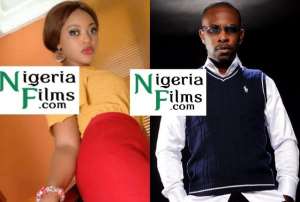 Celebrities are known to get on each other's nerves for the smallest reason. Celebrity beefs or fights are not uncommon.
Yesterday, Tuesday, June 12, as Nigerians were celebrating the remembrance of Abiola's 1993 victory at the polls and also P-Square audio, video release which featured Rick Ross in Beautiful Onyinye remix, Nollywood actress, Biola Ige found the right time to fight Ruggedman.
Before then, a happy Ruggedman tweeted about the P-Square's milestone by tweeting the link to his followers. He did this to support a colleague of his.
Biola tweeted, "D'banj [will] be signing with Kanye, P-Square [will] be singing with Rozay (Rick Ross), Ruggedman [will] be downloading their songs and the 'twat' [will] be calling himself a rapper."
Though a source told Nigeriafilms.com that Ruggedman saw the tweet but he decided not to reply this up and coming actress.
Instead, he later tweeted, "it amazes me what stupidity draws to my timeline at times. Shaking my head! thought it was [only] misery that needs company? I [can now] see [that] stupidity does too."
A brief investigation by Nigeriafilms.com could not specifically pinpoint if there had been a misunderstanding between Ruggedman and Biola Ige.
>
Click the link below to go to...
Nollywood Actress, Biola Ige: Sweeping Nollywood With Sexiness, Beauty?
EXCLUSIVE: Why Actor, Enebeli Enebuwa Is Sick Again**He Broke The Rules--Pastor Sign Fireman
Tonto Dike, James Gardiner Mess Up On Stage In Ghana
Stroke-Hit Actor, Dento Gets Better Days After Crying For Help
Monalisa Chinda Steps Out With New Lover After Crashed Marriage With Dejo Richards?
K-Solo Marriage Breaks**Moves Out Of Matrimonial Home
Tonto Dike, James Gardiner Mess Up On Stage In Ghana
Annie Macaulay Idibia's Post Marriage Interview**2Face And I Are Not Perfect
I Am A Medical Doctor Aged 30, Vi*gin, I Bed Wet, Please Help .jpg