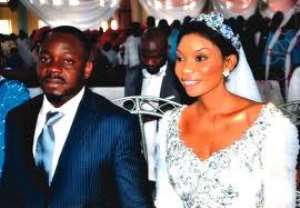 Ever since she got married,Leah Abiara, has been enjoying life to the hilt. She and her husband Nero have become the hottest young celebrity couple in Ibadan.
They work, play and invest in businesses together.
Despite the rumour going round the town that Leah is pregnant; she continues to be a power dresser and is still the biggest chic in Ibadan.
After their birthday last month, Leah got her husband a new car gift. It's a luxury car;Maserati is maroon in colour and he is cruising it around town.
Their love is made in heaven and they are enjoying marital bliss.