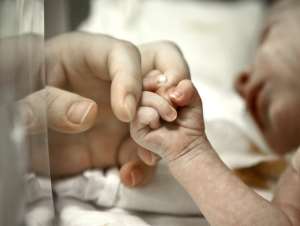 A premature baby thought to be stillborn was found by her mother, alive, after 12 hours in a morgue in northern Argentina.
The child, who was named Luz Milagros, or "Light Miracle," was found inside a coffin at the hospital in Chaco, a half day after her April 3 birth.
The tiny girl, born three months premature, was in critical but improving condition Wednesday in the same hospital where the staff pronounced her stillborn on April 3.
Analia Bouter, the infant's mother revealed that she was sedated at the time her daughter was born three months premature at Perrando de Resistencia Hospital in Chaco last Tuesday morning and was told by doctors that the child was stillborn.
When Bouter and her husband visited the hospital morgue later that day, they had to pry open the baby's casket to say farewell -- and they spotted their tiny daughter breathing and stretching.
Bouter said she thought she was hallucinating when her daughter moved because nobody knows how she could have survived 12 hours in a refrigerated room.
My husband didn't know what to do. We were just crying and I laughed and cried, cries and laughter. We must have seemed crazy." the infant's mother,Bouter stated
We learnt the family plans to sue the staff at Hospital Perrando in the city of Resistencia for malpractice.
Rafael Sabatinelli, the deputy health secretary of Chaco Province, described the situation as "unfortunate" and confirmed that the medical staff involved were suspended while authorities investigated the incident.