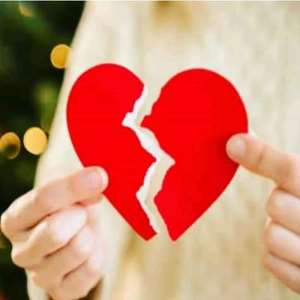 If you have been into it before or experiencing it now, you could testify to it that love relationship is one of the most wonderful events that could ever happen to human being. If you are lucky to love the person who loves you back, my dear, you're on top of the world. But, sometimes, love could be a dagger that tears your heart apart. Your lover who is your source of joy and laughter could turn around all of a sudden to be the one who brings out sad tears from your eyes.
How would you gather yourself together when your lover calls you and says "Baby, ever since the day I met you, my life has not been the same way. I loved you and I cherished you so much. Thank you for everything you have done for me. But I am tired of this relationship. I want us to go our separate ways. I actually need some space. God will give you the man (or woman) meant for you"? I have seen people take their love partners to some cool memorable places just to do "farewell party" for them. During the course of the farewell party, before the breakup intention is made open, the other partner might be thinking "he loves me; she loves me!" Breakup is unfortunate, devastating and heartbreaking, most especially, when it happens to you when you least expected. It causes wound in the heart. It makes the heart heavy and torn apart. It is an experience most lovebirds never pray to have again.
When there's a breakup, what do you do and how do you handle it? Most people respond to breakup negatively. Some are quick to withdraw into their shell. Some will cry for days, weeks and even years! Some would say "I will NEVER love again". Some people even use it as an opportunity to revenge by becoming experts in breaking other people's hearts. When there's a breakup and it's certain that your lover is not coming back (not soon, not ever again), what should you do? In no particular order, we shall presently be considering what can be done.
Talk to people: More often than not, heartbreak is not a battle you can fight alone. Due to the heaviness of heart breakup brings with itself, it will do you good to talk to some good folks about it. You can talk to a friend, family members or anyone you have some trust in. These people may not help you to bring your lover back but their words (and maybe their actions) can be a healing balm for you. Do not say "I don't want anybody to know about it". The fact is nothing is new on earth. Some people had experienced what you are experiencing now. Speak out; don't die in silence. If you can access them, psychologists and counselors are good professionals to pal with during this hard time (most especially, when you see that the hurt is affecting you badly in other areas of life). Your counselor needs not be a person that will charge you (much) bills for sessions of counseling. If you look around, you will see some people who have this gift of counseling; they have been of abundant help to people. They will be of help to you too. And if it becomes necessary to pay for the services these people will render you, is your happiness not worth more
value than money? The bottom line is, do not keep to yourself. Speak out, seek help, to relieve yourself of the burden breakup brings.
Read godly books: There are so many diverse books that address the issues of breakup and heartbreak. One thing about these books is that when you read them and you get to the point where your own issue is being addressed, there is this kind of peace and rest and reassure you get. You always perceive that a heavy load is being lifted off you and some cool water poured out on you. Many people do not read in this generation, it is a pity that we have lost our reading culture! There are so many things you got to have knowledge about that you will never be taught in school. Life is an institution of learning that goes beyond the theories and principles you are taught by your school teachers. Get some non-academic, life-oriented, soul-lifting and life changing books for yourself, read, study and apply them! Books by Joyce Meyer, T.D Jakes, David and Faith Oyedepo and many others will really be of great help to you. They are godly books with godly teachings. When choosing a book, during this trying time you are in, read the ones that address your matter; by their titles, you shall know them. It is important to emphasize that you do not just read to drop the books. Applying whatsoever thing they teach you is what is needed. Read one thousand books in thirty minutes and never apply the knowledge gained, you will still be as dejected as ever. Therefore, be ye the doer of the word and not the reader alone.
Listen to godly songs: When I was in that condition of being heartbroken due to the loss of a loved one, this was what I did regularly (and I still do it now even after I got my healing); listening to godly inspirational songs. They soothed my soul, they healed up my wound and they gave me a hope of a brighter tomorrow. Listening to such songs worked for me. That gives me the confidence to recommend such for anyone passing through the same ordeal. I practically chose my songs. Songs are refreshing; music is a spring of flowing water that cools a burning heart! Find your own songs and singers. Choose the ones that minister life to your spirit and soul; listen to and sing the songs that help heal your broken heart.
Do yourself a favor, forgive: Sometimes, you get amazed at how sweet love can turn to intense hatred and bitterness in just a minute. We have had cases of supposed lovers pouring acid on the person they claim to love because the person jilted them. A lot of threats and life- threatening threats fly around here and there. Of course, I know letting the person you love go is difficult. Letting go of the person you once had and losing such a person to be possessed by another person drives you crazy but wishing your ex-lover evil and threatening them is unbecoming. Yes, you might be hurt and you may reserve the right to feel hurt but hurting people hurt people! My friend, do you know one favor you can do for yourself? Forgive! Just forgive! I know for sure that's not too easy a thing to do, but it is better you forgive. Forgive your lost partner who offended you. Release him or her from the bound of your heart. Let them go. I will always say this, "If someone leaves my life today, it is simply because another person who is far better than the one who left is coming in", that belief has always proved positive in my life.
So, I don't get hurt when someone somewhere somehow chooses to vacate my life. It is my life, given to me by God! Because of that, I do not hold on to someone that is not holding unto me and that makes it easier for me to forgive. Besides that, it is an instruction from God to forgive those who trespass against us. If you forgive your offender, God will also forgive you your offences. It is simple (though not easy), I want to be forgiven, so I choose to forgive. When you forgive your ex-lover who shut you out into the cold weather, you have peace. I am talking to you, forgive, just forgive and forgive. You may come to a point where you become aware that you are actually the cause of the breakup. You get mad at yourself; you irritate yourself. You blame yourself for the failed relationship. Well, coming to understand that the failure of your relationship is partially as a result of your actions, reactions and inactions is good. But you still have to forgive yourself. Just as you are to forgive your ex-lover, so also must you forgive yourself. Don't nail yourself to the cross for too long. Forgive yourself. Forgive and just forgive.
It is my earnest prayer that you be healed of your wound and made whole again. May your joy and gladness be restored to you in seven folds. May you find peace and love that gives you a wholesome sense of your humanity as you live to fulfill your dreams. If no one else loves you, always remember that God does love you.
Damilola Aderinluwo is currently a graduate student of the premier university in Nigeria, the University of Ibadan. You may share your experience of breakup with him via [email protected],com