Yummy Smoothie To Help You Slim Down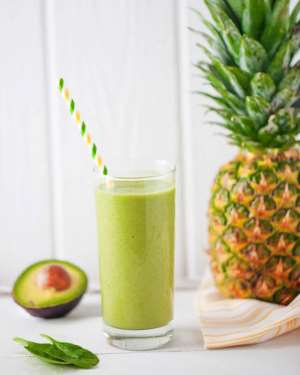 "This is a really creamy smoothie that will satisfy your sugar cravings the all-natural way! The avocado in this smoothie provides plenty of essential fatty acids and vitamins A, E, K, B, C, plus fiber and protein, which will keep you feeling
full.The pineapple is not only sweet but it has anti-inflammatory properties and wonderful digestive enzymes," says Neda Varbanova , certified culinary nutritionist, holistic health coach, and recipe creator. Here are 15 more anti-inflammatory foods .
5 ice cubes
Handful of spinach
1/2 avocado, peeled
1/2 banana
1 inch ginger, peeled
1 drop liquid stevia
1 teaspoon hemp seeds
1 cup pineapple
1 1/2 cup coconut water
Blend all ingredients until smooth.