Ghana Salad Is The Best! Try This Recipe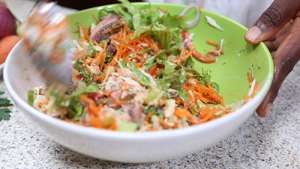 Ingredients For Ghanaian Salad Recipe:
1 Cup Chopped Cabbage
1 Cup Shredded Carrot
1 Cup Chopped Lettuce
1/2 Cup Baked Beans
1 Cup Tuna
1 Tbsp Mayonnaise
1/4 Chopped Onion
1 Tbsp Ketchup
1/4 Bell Peppers, Cut
2 Pcs Sardine
1 Pcs Boiled Egg
1 /4 Cup Coriander
Method To Make Ghanaian Salad Recipe:
In a bowl, add cabbage, carrot, lettuce, baked beans, tuna, mayonnaise, onion, ketchup, bell peppers and sardine. Mix ingridients very well.
Add boiled egg on top of mix and add coriander. Serve.