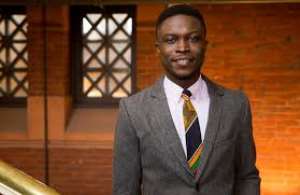 Photo culled from news.upenn.edu
On May 11, 2018 Shadrack Osei Frimpong, Founder of Cocoa360, an international non-profit organization, will join Ghana's President Nana Addo Dankwa Akufo-Addo and other leaders to find solutions and innovations to advance the course of education in Africa.
The initiative, WISE@Accra will convene over 500 local and international policy makers, education practitioners, young innovators and entrepreneurs to discuss how to empower African youth and to scale innovations for quality education, according to information on the Qatar Foundation website.
The one-day gathering will highlight and explore solutions in education for the future of the region under the theme 'Unlocking the World's Potential: Leading and Innovating for Quality Education in Africa.'
WISE@ are a series of local and regional education forums that take place between WISE biennial global summits. With the support of local partners, WISE has so far organized regional WISE@ events in Tunisia, China and Spain. The fourth regional forum will convene in Ghana.
Speakers confirmed for this year's event include:
· H.E Nana Addo Dankwa Akufo-Addo President of the Republic of Ghana
· Hon. Dr. Matthew Opoku Prempeh Minister of Education, Ministry of Education of the Republic of Ghana
· Patrick Awuah President, Ashesi University
· Dolores Dickson Executive Director, Camfed Ghana
· Daniel Dotse CEO, Teach for Ghana
· Shadrack Frimpong Founder, Cocoa360
· Regina Honu Founder, Soronko Solutions
· Amel Karboul Education Commissioner, International Commission on Financing Global Education Opportunity
· Zyad Limam CEO and Editor-in-Chief, Afrique Magazine
· Carl Manlan Chief Operating Officer, Eco-bank Foundation
· Noella Coursaris Musunka Founder, Georges Malaika Foundation
· Vivian Onano Youth Activist, UN Women Global Civil Society Advisory Group
Qatar Foundation, under the leadership of its Chairperson, Her Highness Sheikha Moza bint Nasser established the World Innovation Summit for Education (WISE) in 2009. WISE is an international, multi-sectoral platform for creative thinking, debate and purposeful action.
Shadrack Frimpong is an award-winning philanthropist who has worked to make quality education and healthcare accessible for his community. Through his vision and leadership, Cocoa360 is blazing the trail in the non-profit industry through its unique model-Sweat-for-Impact where cocoa plantation is used to provide tuition-free quality education and healthcare to Tarkwa Breman and its 7 surrounding communities.
Mr. Frimpong's work has been recognized by the U.S. White House, Queen Elizabeth through the Queen's Young Leaders Awards, Ghana's Flagstaff House, and former United Nations Secretary General Kofi Annan. He has also had an opportunity to share Cocoa360's pioneering modeldine with the world's most influential leaders including former U.S. President Bill Clinton.
At the WISE Summit, Mr. Frimpong will be advancing how we can use what we have in our ruralcommunities to enhance and self-sustain quality healthcare and education.