Have You Ever Heard Of The Rue Herb ? Find Out How It Can Totally Transform Your Health And Skin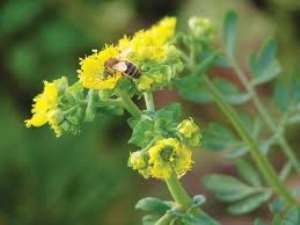 Benefits of Rue Herb:
According to the "Natural Medicines Comprehensive Database," Ruta gravealens or rue contains alkaloids, which have anti-inflammatory, antispasmodic, anti-fertility and antihistamine properties. Rue also contains a plant compound called rutin, which is an antioxidant that helps prevent free radical damage.
Rue oil is often used as a fragrance in soaps and cosmetics. Due to its toxicity, rue is seldom applied to the skin directly. Yet, rue is known for some benefits for the skin:
1. Anti-Fungal:
Rue helps our body fight against fungal infections such as dermatitis and athletes' foot. Depending on the severity of the infection, rue can be used directly on the skin, especially when one is suffering from athletes' foot. It also provides instant relief from itchy skin.
2. For Clearer Skin:
The anti-fungal properties of rue also helps it to cure de-complexion of the skin, to reveal a more beautiful and clear skin .The anti-oxidant properties of rue ensures that your skin wards off free radicals that cause premature ageing of the skin, keeping your skin looking young and happy. This is why rue oil is often used in spas for providing therapeutic facial steams.
3. For Lice Free Hair:
Being an effective insecticide, rue essential oil and extracts are often used to get rid of a lice infestation. Regular use of this oil can repel those pesky little parasites from your hair and help you stay itch free!
4. Get a Spa Treatment:
A number of spas use rue oil for hair treatment, to give you hair that shines with health. This is the perfect recipe for healing damaged hair .
5. Rue is effective in calming hysteric and epileptic attacks due to its sedative properties. It helps in desensitizing and relaxing the nerves while inducing numbness because of its neurotoxin content.