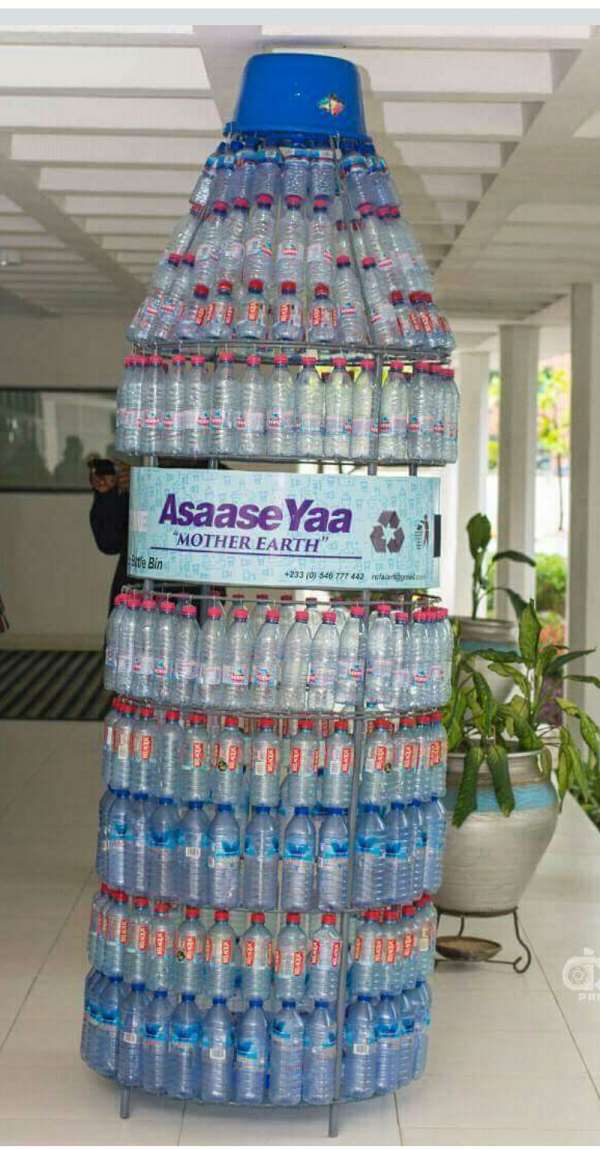 Rufai Zakari is an environmental artist who is passionate about saving the environment from filth through his art works.
"Asaase Yaa" is one of his innovative works and it is geared towards protecting the environment from plastic waste menace.
"Asaase Yaa is regarded by the Ashantis of Ghana as Mother Earth. The earth godess of fertility, the upholder of truth and the bearer of life and provide sustenance for all,|" Zakari said in an interview with modernghana.com.
He adds: "The Asaase Yaa bin installation is an inspired work of art to protect the environment from plastic waste, the emphatic art of reusing plastic bottles which may be seen as a destruction or pollution to the environment."
Asaase Yaa is specially crafted from numerous plastic bottles (usually mineral water bottles), in the shape of a huge bottle or tea cup.
Hani wo loo means let us collect in the Ga language.
This initiative of reusing waste materials to produce secondary materials that cleverly controls waste to conserve and protect our environment was featured in EU Climate Diplomacy week.
With the touch of art, he further explains that the Asaase Yaa bin attractively encourages people to collect any improperly disposed plastic bottle to fill it.
The installation contributed enormously in the EU Climate Diplomacy week and clean up exercise on the beaches of Accra dubbed "Hani wo loo."
Zakari also has to his credit a flower mask made from plastic bottles to beautify homes while solving environmental challenges in Ghana.
The flower mask is a type of flower vase made primarily from discarded plastic boltless in a face mask design, and could be use to decorate homes and offices.