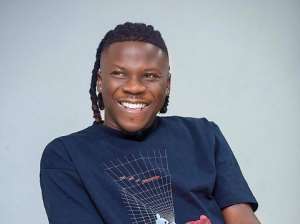 Stonebwoy
It appears the fanbase of the Bhim Nation President, Stonebwoy, wants to ride on his benevolence after seeing him pay the fees of a needy KNUST final-year student.
A netizen who appears to be a fanatic of the award-winning dancehall artiste requested money from him to purchase a bicycle to aid his safe movement to and from his workplace in a reply to a tweet from the musician.
"Stone please I need money to buy a bicycle, I walk almost about 45 minutes to work every day. Thank u," the fan begged.
In response, Stonebwoy, in a tweet spotted by Modernghana News on Monday, July 4, 2022, said the fan just wanted to read something from him and further indicated that there are a lot of people who walk farther than the fan.
He did, however, assign him the task of discussing his situation with his boss and reporting back to him with the outcome.
"Eiiii I feel like u just want to read something from me...
"I promise you people walk more than that to work..anyway ask your employer first and let's see," he replied.
Many Ghanaians lauded Stonebwoy a few weeks ago for paying the fees of a final year student at the Kwame Nkrumah University of Science and Technology (KNUST) after a friend of the said netizens made it known to Stonebwoy via a Twitter post.